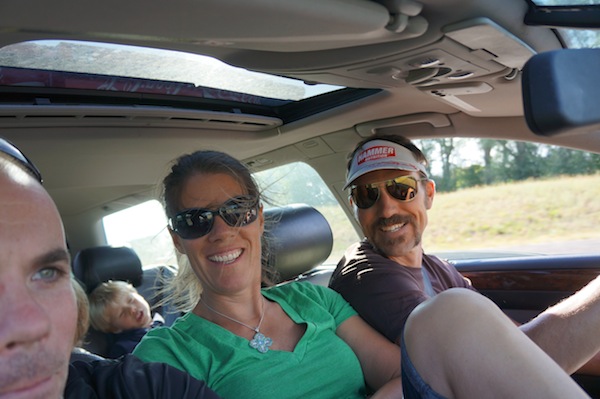 I'm sitting at the Phoenix airport drinking a tall Stella, converting the Pierre's Hole 100 highlights video. It's been a long day, one of the longest. I realized last night, after riding most of a lap of the PH100 course — that's how good the course is, it's what I wanted to go ride when I had a chance to get out on the bike — that I had to hop on a 2:05 AM shuttle to make it to Salt Lake City in time for my flight. It's a five hour shuttle. Ryan O'Dell, NUE Series promoter was nice enough and crazy enough to drive me the hour or so from Grand Targhee Resort in Wyoming to Rexberg, ID at 12:30 AM in his semi-absurd orange rental Camaro.

Of course I'm flying standby (one of the ways I attempt not to lose my shirt during these endeavors), and I wound up getting on a 8:10 PM flight to PHX, so getting to the airport at 6:50 AM was a little on the ridiculous side. It did give me plenty of time to work on the PH100 highlights, which I think came up out nice.
The SLC Express shuttle is a weird scene at two in the morning. I was waiting for it outside an eerily quiet American Inn. Across the street there was a gas station blaring music, I thought I'd go over and grab a drink or some horrible thing to put in my body. I bee-lined it toward the sound of the music, but found my path blocked by a moat of brown ditch water. I traversed over to a culvert and carefully made my way across to the sidewalk on the other side, lugging my rolling carry-on, my laptop bag , and my camera bag. When I got to the other side of the street I found that the gas station was closed despite its fluorescent brightness and its classic rock soundtrack. As I made my retreat a battery of lawn sprinklers lit me up, soaking my bags and sending me scuttling into the dark street. Elton John was singing over the whole scene from the gas station. It was one of the saddest, loneliest moments of my sad and lonely life.

But that's all horribly boring.
The pursuit bike for PH100...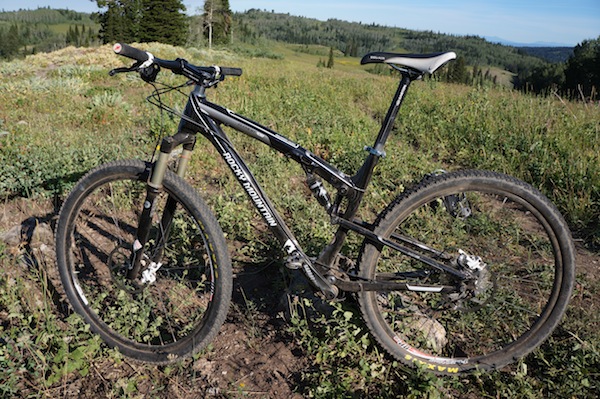 Often when I go out on these coverages I convince a local shop to toss me a demo bike. In Bend it was Webcyclery putting up a Niner Jet 9, at PH100 it was Habitat, an awesome shop in Driggs, Idaho hooking me up with a fresh-out-the-box Rocky Mountain Element 930, a sick full suspension 29er. Those guys really went above and beyond. The bike was killer, it felt quick and tight for a 29er, really nice in the switchbacks out on the PH100 course. More on that later. I swear I'll do a full review.
Now I guess I'm getting on a 10:45 PM flight from PHX to Philly, then hopping a seven-something flight that gets me to Boston at eight-something. If all goes...well? I'll be getting back on a plane Thursday to fly out to Colorado for the Breck Epic.
I have not slept more than a couple hours in the past 38 hours. I'm slightly debilitated. There was a moment when I was sitting working away on my laptop at SLC airport and I realized that my carry-on rolling luggage was nowhere in sight. "Oh crap, I left it in the bathroom...it's gone. It's got my Shimano M315s, my helmet, a brand new Osprey pack, my XT pedals, and god knows what else in it. Fuck." Sweat beaded on my brow as I stood up and hastily packed my stuff. On my way to the bathroom I saw a green bag out of the corner of my eye. It was my carry-on, sitting at a convenience store. It had been there for over two hours, prominently displayed in front of a candy rack, totally in the way as the recording of that woman's voice ran over and over — "Please do not leave your luggage unattended..." I half-expected to be tackled as I retrieved it. Luckily for me security at SLC is pretty lax. Although TSA did pat me down, paying special attention to my still open wound from the Dejay/Firecracker incident at SSUSA. The dude felt awful when he completely buckled me.

The race!

We're not gonna talk about it. That's what the videos are for, they tell the story straight up, first person. Seriously, go watch Amanda Carey talk about her stand off with a bear on the sweet piece of singletrack called Wilson Creek during her last lap.

Then there was this guy...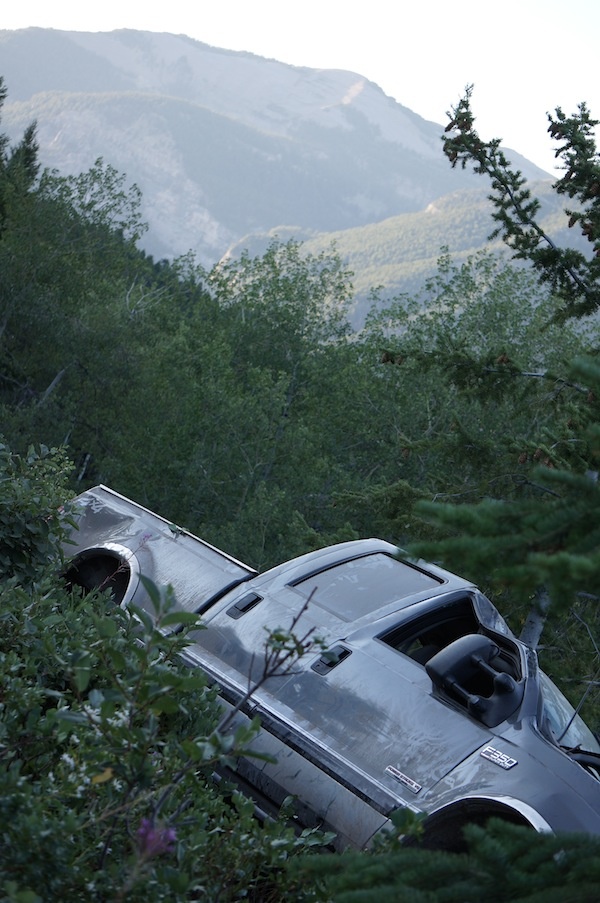 This completely freaked me, and a whole lot of the racers out. I rode down Ski Hill road from Grand Targhee Resort to catch the leaders coming through Aid #1. On my way back up to the top I saw this truck off the side of the road, thirty yards from a switchback. The lights were still on and I think a blinker was still blinking. This lead me to believe that someone might still be inside. I hadn't seen the truck on the way down so I assumed it had just happened. Walking around the cab going "Hello! Hello!" I thought I was going to throw up. Thankfully there was no one in there. The cab was covered in blood and it didn't look like there was all that much room left for a human being to inhabit that space. Later I was told that the guy was at the ICU and that there were cops and maybe drinking involved.

The next day I went out for ride, hitting the whole course minus the brutal climb out of Dry Creek. (I even Strava-ed it.) What was remarkably was that at the scene of the accident there were no skid marks. That dude just sailed off the freaking road.

Kind of like I almost did while driving back to WreckThem from Boston just now.
I gotta shut up and get some sleep before my brains start oozing out my ears like over-boiled oatmeal.

- t