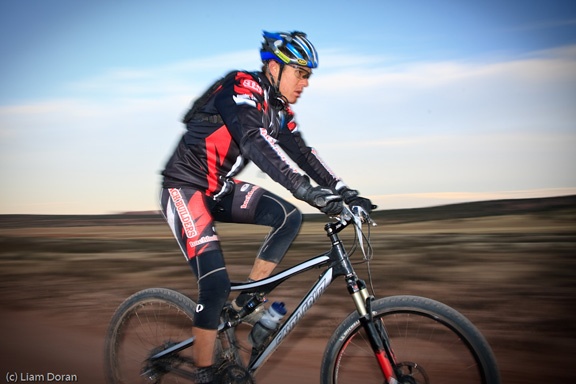 Why just seven questions? Why...why not eleven questions? There's simply no time, because BigBikes is on
its
way to Breckenridge for the Breck 100 this Sunday — stopped at a horrible service plaza in western upstate New York right now, on to Cleveland in a bit, maybe Lincoln, Nebraska tomorrow, and Breckenridge by Saturday afternoon at the lastest. It's pretty screwed up when you punch your destination into your GPS and it gives you the time in days. Breckenridge is 1 day 3 hours away at the moment. Ever seen
Vanishing Point
?
Jost Tostado is the high altitude dwelling space alien to beat at the Breckenridge 100 this weekend. He was nice enough to take the time to answer
our
seven very serious questions.
7 Vaguely Breck 100-Related Questions With Josh Tostado
:
1.
BB: All right, last time I saw you you were out in Michigan at the Lumberjack 100. What's been going on since then, you been racing?
JT: I haven't raced since then I have been riding my ass off in breck it's been one of the best early season for riding so I've been getting all the great high alpine rides done.
2.
BB: The Lumberjack was a flatter, faster course and you are a smaller, climbier guy who was up against a bunch of bigger, meaner dudes. How was that?
JT: The lumberjack was a great test for me It is the polar opposite of what I'm used to I was really happy to hang in as long as I did.
3.
BB: Breck 100 is effectively your hometown throwdown, you have been incredibly dominant there in the past, losing only to who...Jeff Schalk? In the absence of Schalk, who are you most scared of?
JT: I'm not sure who is coming but I'll bet their will be some great competition.
4.
BB: Break down the Breck course. What are the hardest points, the most awesomest features?
JT: The hardest part for me is the first climb over wheeler pass, it's so early and I take a bit to warm up but after that I'm good. the best part is all the ripping single track, the trails in the course are some of the best in the county.
5.
BB: If you're such a hot shot bike-guy how come you're not riding in that Le Tour De Le France thing right now le?
JT: I don't like cheese that much and I don't play well with pavement. Also the only drugs I've used are not performance enhancing .
6.
BB: I myself am someone who is effected adversely by altitude, y'know — shortness of breath, light headedness, loss of bowel control, temporary Tourette Syndrome, and terrifying hallucinations involving spider-babies...at what point do you feel elevation? Do you need to pedal over an 18,000 foot Himalayan pass to experience the slightest bit of discomfort?
JT: I think I'm used to feeling dizzy all the time but I ride over some 14er's in alma sometimes and I can feel it up there.
7.
BB: Now you're heading to High Cascades 100 right from Breck. How do you feel about that? What is your week gonna look like between two of the hardest hundred mile mountain bike races in the country?
JT: I am super stoked because both races are really great trail races, I love the riding in oregon and Mike puts on a great race.