EFTA NECS #4 All Out In Moody Park the short version...
Former Semi-Pro Nationals winner Dan Vaillancourt came off the couch to win yet another regional Elite race. It's what he does. It doesn't matter who's there, how much dope they're on, or how many Strava Koms they've crushed — Dan will take all comers.
Bradford Perley
did give him a ride for his money ("run for the money" is the saying, I know, but running is STUPID). Brad "Lobster" Perley has been down at Lees-McRae in North Carolina getting mega-strong for a few years now. When he comes back home he tends to be a major threat at any race.
The Elite field was modest yet stacked at Moody Park, but it came down to a two man race. The final move was made on the one major climb on the course. Moody boasts 600 feet of climbing per 5 mile lap and it pretty much comes at you all at once. There are a few kind of false flat singletrack climbs, but all the roots and rocks keep your mind off the fact that you're steadily gaining elevation. The penultimate climb starts with the snaky singletrack stuff, then opens up into a double-track that is ideal for attacking. The Expert Vet I and Single-Speed races were decided on this climb as well. Vet I winner
Dave Dornaus
dropped
Jon "Barnyard" Bernard
on the climb after a fierce multi-lap battle.
Thom Parsons fell victim to a mad-watt blast from
Dejay Birtch
in about the same spot, finishing second to the man who lives in a creepy van.
Yes, Thom "Jerk-Face" Parsons could have maybe done
more weller
if he hadn't not-slept for two nights on George "
Bike 29
" Wisell's couch while
Dough Jenne's
dog licked his face and made Chewbacca noises at him. And maybe he could have done less not-good if he had abstained from eating a 1 lb burger with bacon and a fried egg on it called "The Truck Driver" at The Reservoir in Waterbury, VT the night before the race.
He was quoted after the race as saying "The first time Dejay attacked me and I went anaerobic, I felt like a 2-month-old baby had been sleeping in my stomach and it had suddenly woken up...and it was pissed...and it had a pair of maracas."
The SSUCI (Single Speed Union Cycliste Internationale) is still deliberating on whether Dejay's single speed win should be negated due to the fact that he spent the latter part of Saturday evening wearing Podium Legs and pleasuring himself to his Strava stats while T-Hom Parsons was off washing down a his meat baby with high-test IPAs at the BlackBack Pub & Flyshop.
Jacquie Phelan once said "Not drinking the night before the race is the single-speed equivalent of doping."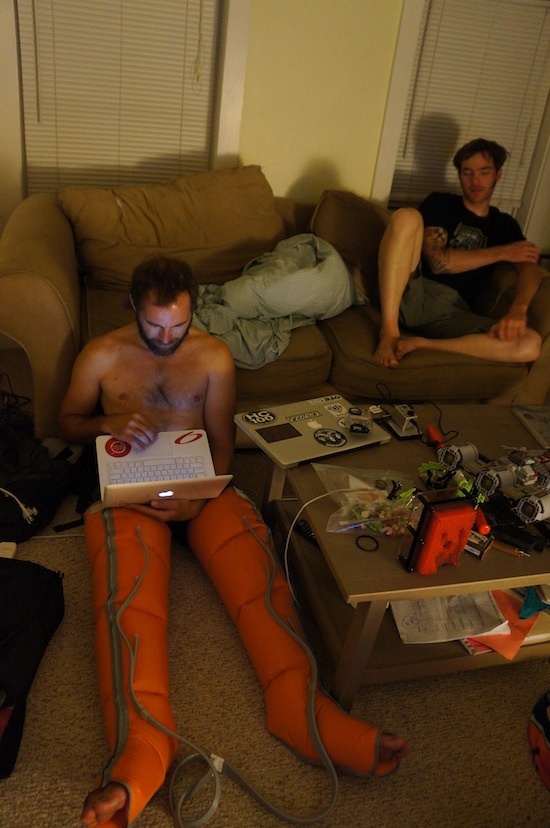 Someone else may have said "Wearing Podium Legs the night before the race is the single-speed equivalent of going back in a time machine, dragging your competitors out of the sandbox, and smashing their knee caps in with a pipe wrench" but I couldn't Google it up.
In the Elite Women's field
Crystal Anthony
CRUSHED IT. Karin Holmes and Rebecca Wellons didn't stand a chance. At one point the lead Expert Vet Is and the lead single-speeders passed Crystal (the Vet Is were traveling at a pace that would have put them in the top five of the elite men's field) and she tacked on for a god bit. Crystal is gearing up to have a brilliant cross season. And watch out for Expert Women's winner
Kate Northcott
. She actually finished in a good enough time to drop her in third place in the women's elite field.
That's about enough of a race report. Now we shall segue off into space with some photo captions.
One more thing...
this course is AMAZING. Just a gorgeous all you can eat buffet of New England singetrack. Check out the
highlights vid
.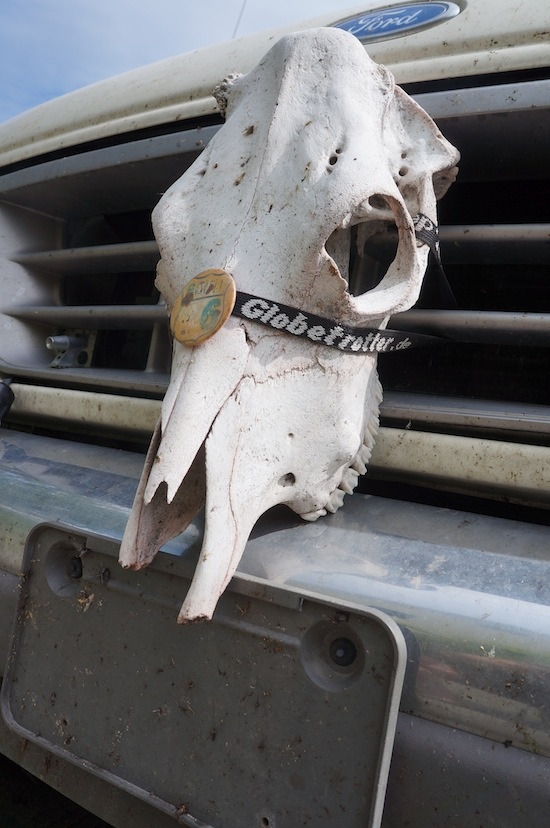 Above: Dejay's Creep Van. The steer skull strikes fear in the heart of single-speeders across the land.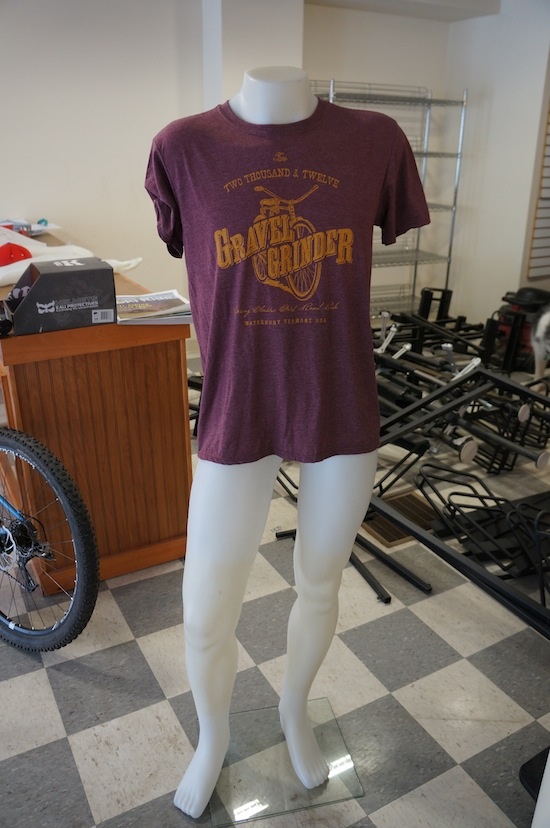 This Mannequin at
Five Hills Bike Shop
totally freaks me out. It reminds me of the scene in Animal House when Donald Sutherland reaches for something in a high cabinet while wearing nothing but a cardigan. Boon didn't like it either.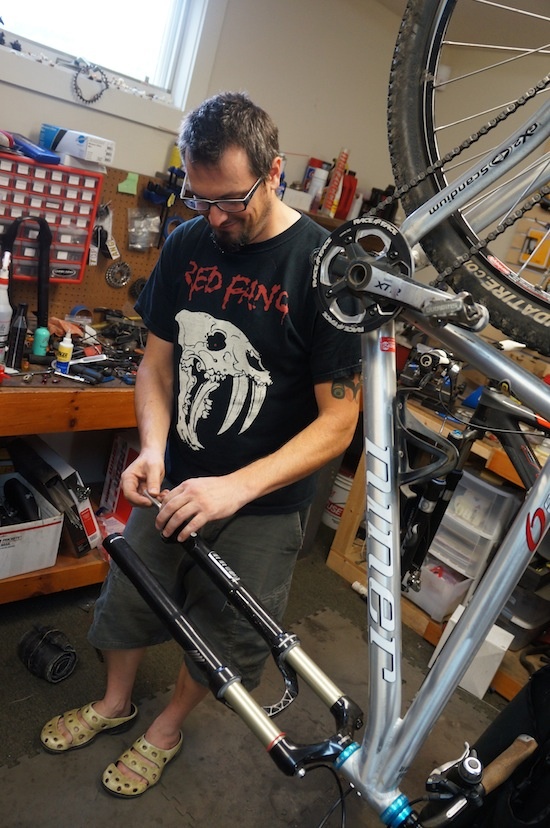 Speaking of
Five Hills Bikes
...
George Wisell gave my fork one squoosh and before I knew it he had ripped it apart and put it back together in a fashion that allowed it to be way more functioning than it had been previously. Hey, it was my half-assed way of dabbling in rigid fork riding. I credit George's handiwork with my, uh...I mean T-Hom's almost-win. I think George worked on Dejay's bike longer so The Force was stronger within it.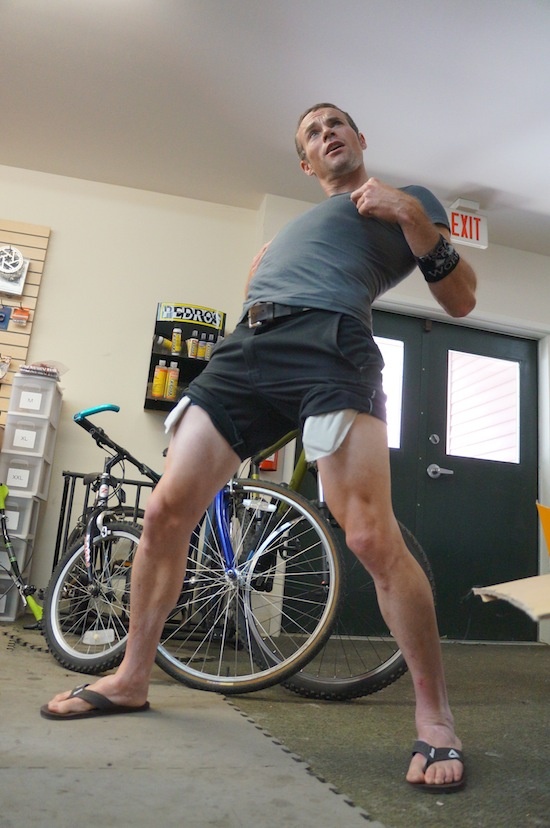 Someone accused me of having short shorts. I said "Oh, you wanna see short shorts?" and the accuser and everyone present was like "NOOOO!" and I said "I don't care, I'm gonna show you short shorts anyway! WOO!"
All this talk about short shorts is making me
hungry
. Race promoter Woody Groton suggested that we check out
Ramunto's
for food after the race. It was a good call. The Wilcox thought so too. He ate all that stuff in front of him. Remind me not to challenge him to a "The Truck Driver" eating contest.
All right, that's it. Next Up: Breck 100 THIS COMING SUNDAY.