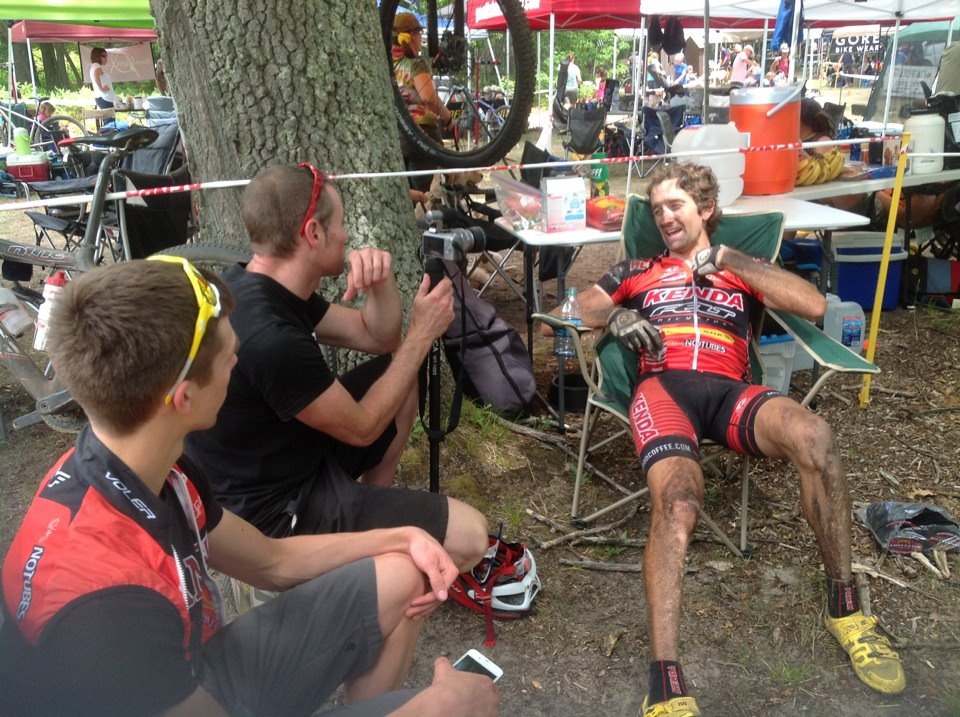 Photo cred: Dylan Lee
Race report
:
Barry Wicks won the men's race, Amanda Carey won the women's race, Hal Batdorf won the singlespeed's race, and Ron Sanborn won the Master's race. This is Cyclingdirt, not Cycling-something else, if you want the real story,
WATCH THE INTERVIEWS
kids!
That snarked, it was one of the most exciting NUE races I have witnessed. There are a handful of guys who are just so bad ass at riding hundred milers right now, and then you throw in an unknown quantity like Barry Wicks and wow...knock down drag out fight to the finish — elbows, bar bumping, fire-freakin' works all the way.
In my pre-race write up I made the erroneous claim that the Lumberjack 100 is the
easiest hundred miler ever
. There's an old saying in Tennessee (I know Christian Tanguy referenced it in his
pre-Cohutta interview
anyway) — I know it's in Massachusetts, probably in Tennessee — that says "The racers make the race hard, not the profile." The Lumberjack is a buff singletrack race with relatively little climbing — some say 9,000 feet, some say much less. If you were to just go out and ride it at your own pace...when it wasn't 90 degrees...and there weren't a handful of the fastest endurance racers in the country (and Barry Mother Freakin' Wicks) breathing down your neck it might be a cake walk.
I used that phrase in my pre-race write up — "cake walk" — and it sounded OK then, but, now that I think about it..."cake walk?" Is it really easy to walk through cake? Have you tried walking through cake? I bet it's not that easy. I'm going to keep yammering about the Lumberjack, somebody go come up with a new saying that makes more sense. And not "firm cheese walk"because I already thought of that and it's stupid and not funny.
I am fully expecting some angry dude in the comments section to say something like "Cake walking is easy...idiot. I walk through cake all the time...idiot. Get your facts straight...idiot."
The 2012 Lumberjack was far from easy. I have rarely seen that many shattered racers after an NUE race. Look at
Josh Tostado and Michael Simonson
(and ignore my shoddy camera work), they are SPENT.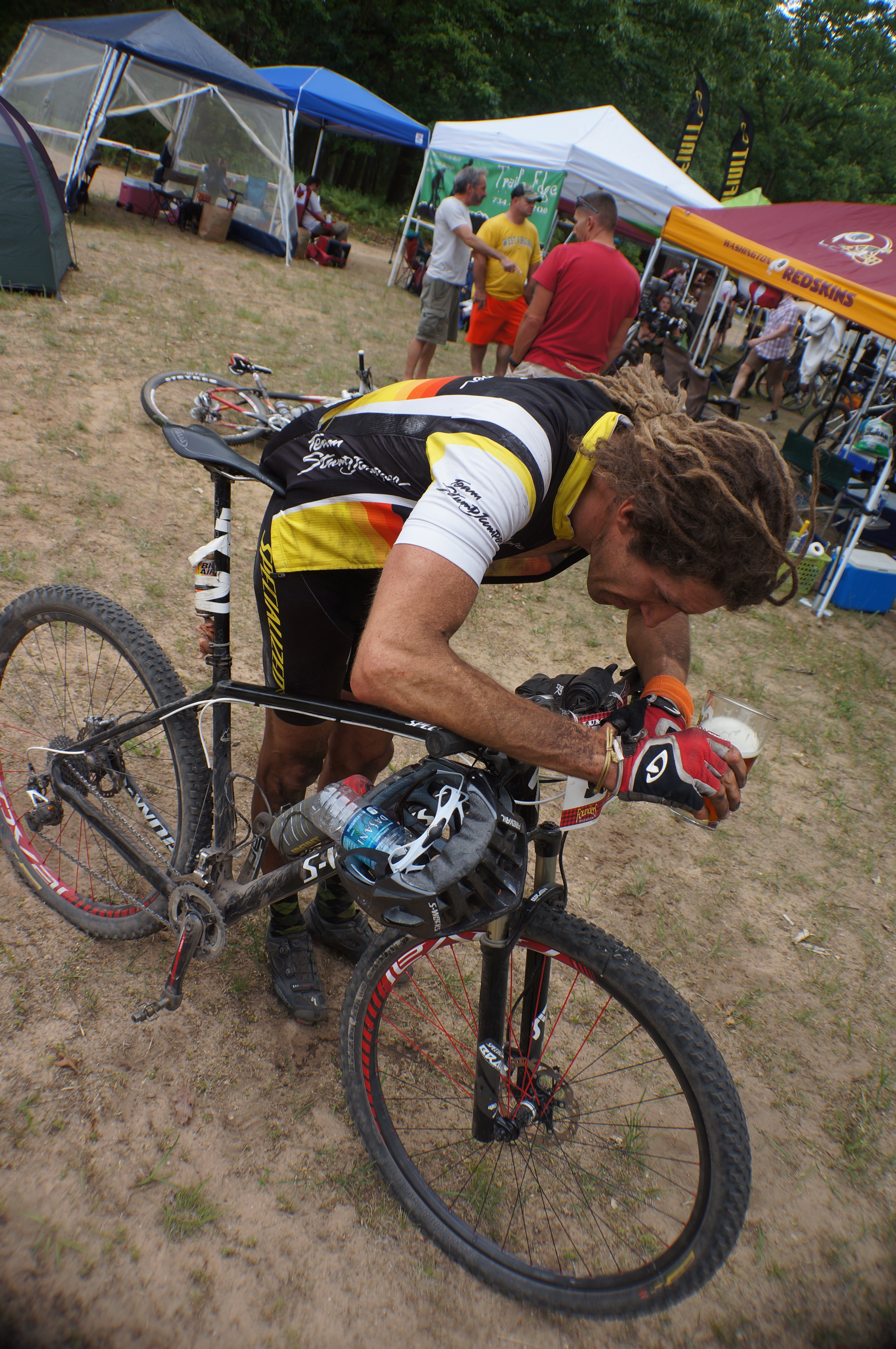 Garth is so wrecked, he's talking to a balled up 29er tube like he's having face time with
Dicky
.
What makes it so hard? It's all pedaling. It's not all climb, climb, climb — DESCEND! Watch some of the early clips from the
highlights
, guys are pace-lining down the jeep road sections, just sucking dust. The course also gets softer and sandier as you go. It starts out all firm and buff, but as hundreds of riders rip around the three 33 mile laps, it turns to fine beach sand. (Still, sand has got to be easier to walk through than cake.)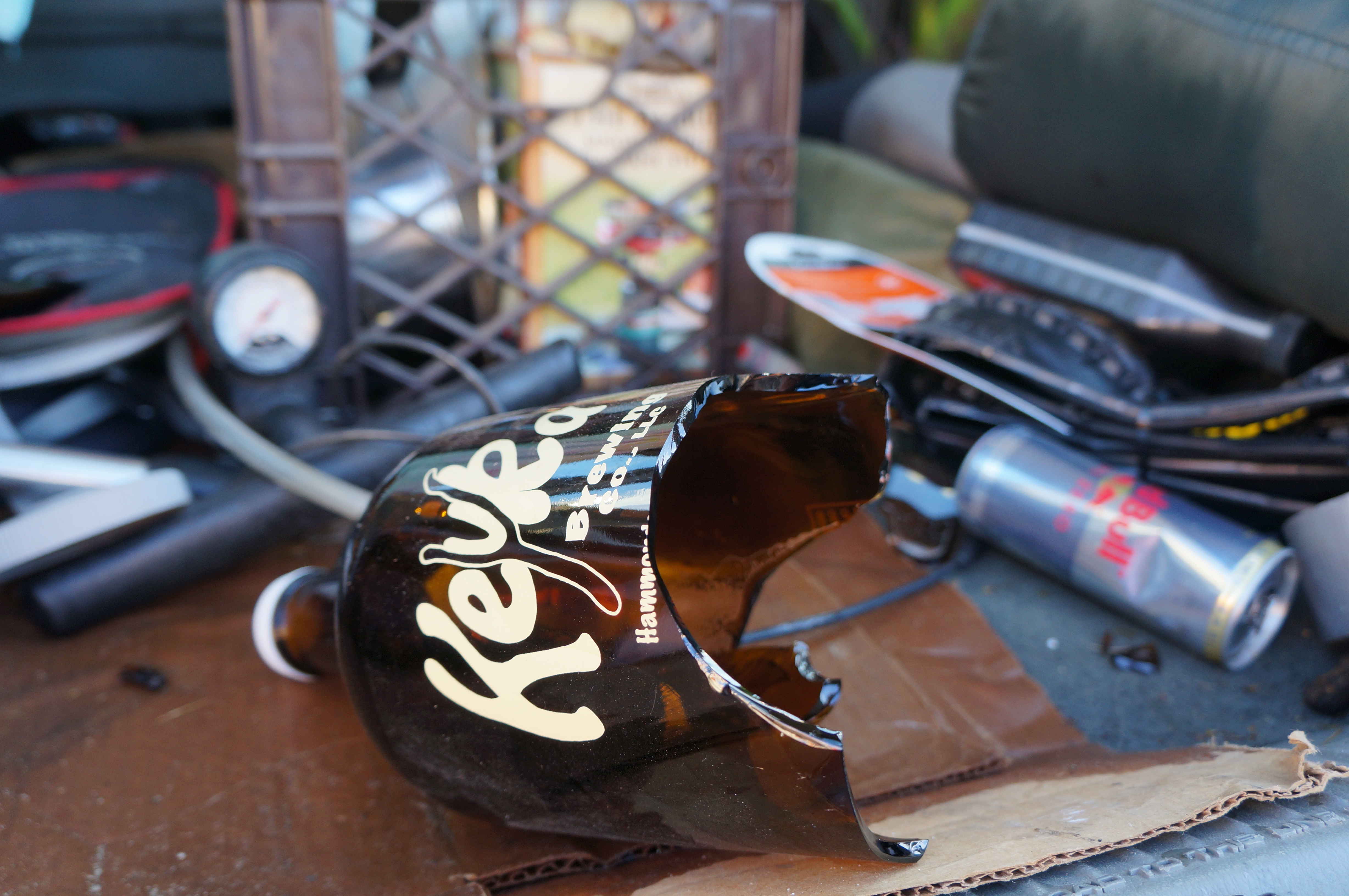 Hatchet chop segue
:
This growler from
Keuka Brewing
was supposed to be a gift for Lumberjack promoter Rick Plite, but it smashed in the Miniature Boogie Van somewhere near Wyoming, MI. "I swear I haven't been drinking officer. Bathing in IPA, maybe. Drinking no." You guys ever been to Wyoming, Michigan? What a sh*t h*le. I'm not worried about offending anyone from Wyoming, Michigan right now because if you're from Wyoming, Michigan you probably aren't reading this.
Because you can't read.
And even if you could read you'd be too busy smoking crack outside the Motel 6 near the airport to bother actually reading anything. Except The Hunger Games. Everyone and their mother (who suffered a factory accident where a piece of rebar was thrust through her skull) is reading that sh*t.
Drugs are bad. Don't do drugs kids.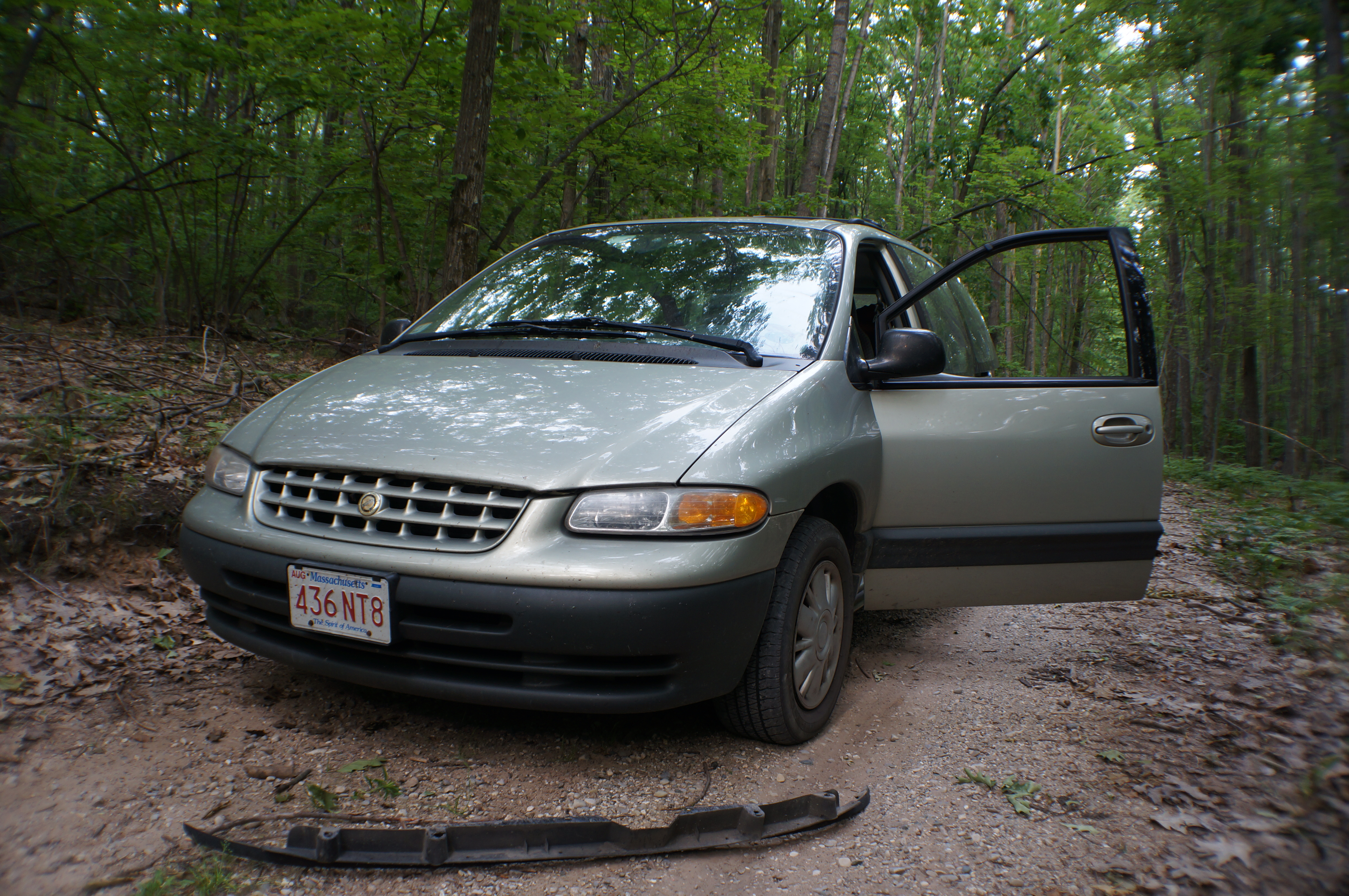 Drugs, legal or non, might make you drive a miniature van through the Michigan woods at 45 mph until you rip something off and have to stop and go "Oh wait, maybe driving a miniature van through the Michigan woods at 45 mph is a bad idea." And then do it some more.
In conclusion (I'm very good with conclusions), I'd like to say that the Lumberjack delivered. The trails were spectacular (the kind of buff stuff that New Englanders can only dream of from their rock and root filled beds), the racing action was hotter than the temperature (smokin'!), the food was great (very important that racers get fed well after a hundred miler), and the beer (
Founder's
) kept flowing long after most sane-non-alcoholic folks had gone home.
Next up:
Hilly Billy Roubaix
this Saturday in West Virginia. And right after that, like the NEXT DAY is the
1st Ever West Hill Shop/Grafton Ponds Mountain Bike Race, Root 66 Series
up in Vermont...eleven hours away. Check out the promo we shot
HERE
. Hope the beating I gave the miniature van in Michigan doesn't come back to haunt me out there on the road. Hey Cyclingdirt, buy me a moto!
Next up as far as Kenda NUE (National Ultra Endurance Series) stuff goes is High Cascades 100 in Bend, Oregon on July 21st. Word is Barry Wicks will be at that one too. Hopefully he'll drag some other local fast dudes who never ride hundreds out too. There is some chance we'll be in Breck for the 100 but who knows.
- t