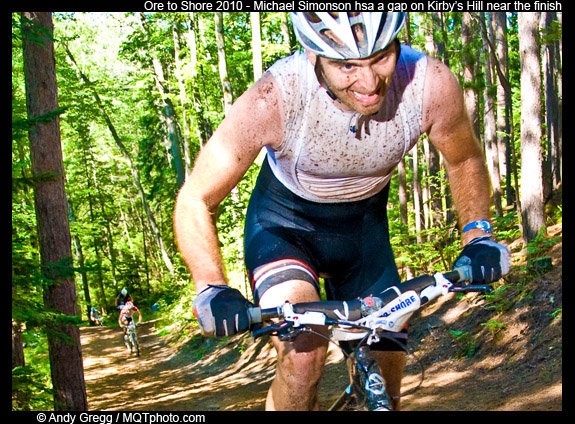 Michael Simonson is one of the consistently fastest guys on the NUE (National Ultra Endurance) Series scene. He had some issues at the last stop in the series, Syllamo's Revenge down in Arkansas, but he's looking like a serious threat for the win at the Mohican 100 this Saturday, June 2nd in Ohio.


1. Dude, what happened to you at Syllamo's Revenge?
Ahh, don't get me started on that disaster... that trail eats bikes. Normally the Nano's hold up pretty well, but the trail is a bit on the ridiculous side. Not a good race course. My first time on the course too. It's one of those kinda starts that you have to be on the front row. I'd say you have about a 25% chance of making it through without a mechanical or a crash. Throw in a 14hr drive and it's a recipe for stupidity. I mean, I could have gone on a relaxing 4 day vacation with my wife. Instead I decided to waste my vacation days on this bullshit race. Made me want to quit racing. I'm still sore about it if you can't tell.
2. It's looking like there's going to be a bit of a power vacuum at the Mohican,
what are your chances? Don't be modest.
Well Tanguy is coming now... so next question.
3. No offense or nothin' but you are a BIG man. How do you keep up with all these jockey-sized guys on the long climbs? Do you just threaten to smash them if they don't slow down? — "Don't make me anaerobic, you wouldn't like me when I'm anaerobic."

I think it's just lots of power. It's more of a controlled sustained kind of power tho. Took me a few years to change my style. I'm just a little stubborn. I want to prove a big guy can do it too ya know. Keeps me motivated. If it was too easy I wouldn't have any interest in it.
4. Talk about your training a little bit. Are you still going out for mega-long-rigid-single-speed rides at this point on the season?
I still like to do the long training rides. Not sure if they do more harm than good, but I think I'm the kind of guy who needs it... both physically and mentally. My trail skills seem a little rusty, so I'm working on adding in more trail time. That, and I'll start adding in some time behind the scooter now that it's warmer.
5. Do you think you'll ever get bored of hundred mile mountain bike races? What is it about these things that gets you so freakin' jazzed?

I love the challenge of them. I find that it's right where my body just completely bonks out. Sometimes I make it to the end, and other times it gets ugly. It takes a lot of work and determination to be able to stick a 100 miler right to the end. Everything has to be done to the max.
6. What are the particular challenges of the Mohican 100? Where do you think the pivotal moments in the race will occur?
Looks like the mud will probably be the challenge this year. Those steep dirt rd climbs at the end are real stingers too. The buggy trail always works me over pretty well.
7. You are someone who has experienced first hand, more than once, the disadvantages of running super-lightweight equipment. At this point how do you feel about the trade off between running lighter, more fragile stuff and running heavier, more reliable stuff?
It's always a risk you have to weigh. Some of the guys get away with it cause they're lighter and not as hard on the bike. Seems I'm capable of breaking anything. It also helps to change your style of riding if you know you're running susceptable components on a rough course. But in the end, any mechanical you have is going to cost you time... probably more time than it was worth. We all have a little luck on our side when we have a clean race at these events.
8. Have you ever tangled with the Pro XCT type races? Would you? Why/why not?
I used to do them. Maybe I could do well on the right course. I always felt like the race was over in the first 300 yards. I remember racing Mt Snow. I'd cross the start line and look over my shoulder to see JHK half way up the mountain already before I was even clipped in. Seemed kind of stupid to me. See question 1... stupid things make me want to quit racing.
9. I'm not sure if I've asked you this question...what is the worst song or thought you've ever gotten stuck in your head during a race?

The worst thought is thinking about crashing really bad again. I suppose that keeps things in good perspective though. A lot of times I just get these little beat box rhythms going. I also like to tap my teeth togther and make little beats up as I ride.
10. I mean, do you train with an iPod or do you just think about DESTROYING your rivals during all that time on the bike?
No ipod, no tunes. It's all going on up there in my head. I suppose if someone gave me an ipod that was fully charged up and had a sweet list of jams on it, I would listen to it on my rides. I have an ipod, but it's battery is always dead, and I never took the time to put my favorite songs on it. It's funny I'm an enginner, but I'm not a real fan of technology.
11. That dude Kevin Carter came over to hundred milers from triathlon and he seems to be taking to them pretty well. What if you transitioned over to triathlon, what would happen then?
Triathalon? Refer back to question 1.