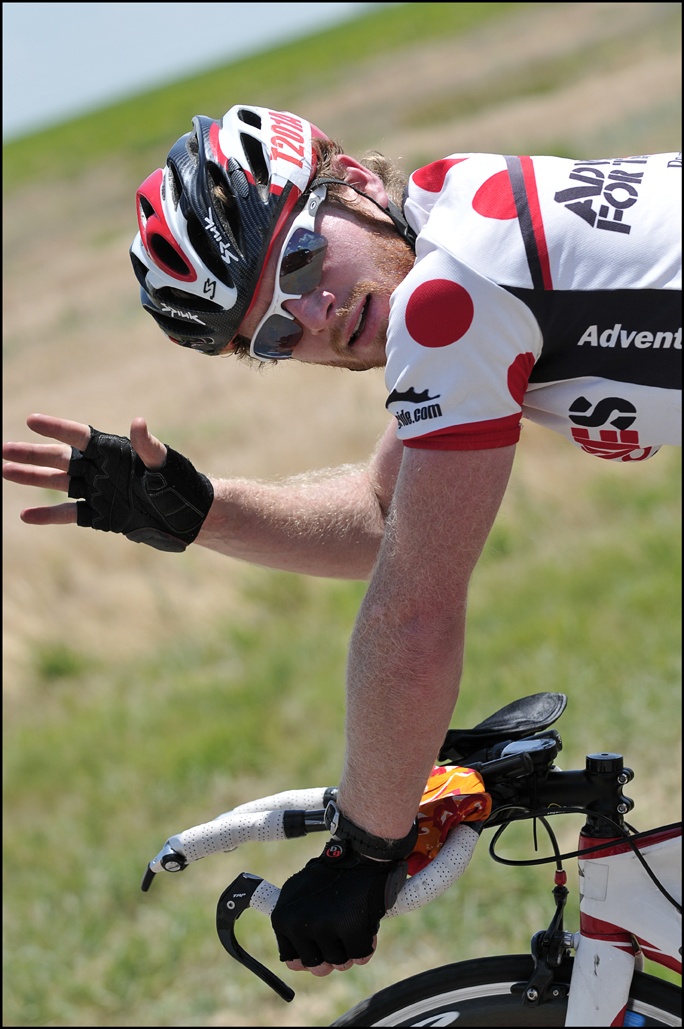 Patrick Blair is a special dude. He rides and races for
Adventures For The Cure
, using the sport he loves to raise awareness and money for causes that matter. The Mohican 100, race number three in the NUE series, will be his first one hundred mile mountain bike race, but this isn't his first rodeo, read on...


1. Correct me if I'm wrong but you have never done a hundred miler
before. What made you decide to do The Mohican 100?
Well, in the beginning of the year I thought I might want to get back
into racing long distances. After doing a few long training rides, I
reconsidered and decided on XC distance races instead. However, since
I had already registered for this race, I figured I might as well go
out there and have some fun! I have never done a 100mi mountain bike
race before, but I have done a 13hr solo mountain bike race in
Leesburg called Baker's Dozen. (That was when I was in shape for long
distances!)
2. You ride for a pretty special team. Talk about it.

My team is "Adventures For the Cure (AFC)"
(
http://adventuresforethecure.com
) We are not just a
cycling/duathalon team, but we are also a 501(c)(3) nonprofit
organization. Our mission is to use the things we love (like
biking/running/etc.) to make a difference! My best friend, Adam
Driscoll, has Type 1 Diabetes so when we started the organization in
2006 and our primary focus was to raise money for Type 1 Diabetes, in
particular we raise money to support a diabetes camp for kids called:
"Extreme Weekend For Children with Diabetes"
(
http://www.diabetesdestiny.org
/). We also raise a lot of money for
Kupenda for the Children (
http://kupenda.org
) and a few other
charities that members of our team are close to. Our team is about
100 members strong now. As we grow in numbers we have been able to
really make a huge impact in our community. AFC does good stuff!!
3. In the pantheon of crazy things you've done, where does a hundred
mile mountain bike race stack up?
In 2009, my best friend, Adam, and I raced a cross country road race
called "Race Across America" as a 2 man relay team. We each did about
215 miles per day for about 7.5 days (going from CA to MD at race
pace!). Towards the end of the race we were sleep deprived and
delirious. It was the hardest thing I have ever done physically in my
life!! I hope that I am not delirious at the end of this NUE race...
but if I go out to hard it might be bad news.
4. Are you scared? How hard do you think this thing will be compared
to say...riding a fixed gear across the entire country in less than a
week?
Haha yeah--in 2008, Adam, Adam's brother Alex, our friend Keith Rohr,
and myself did a 4 man fixed gear relay team for the Race Across
America. We finished in under 7 days (it was not nearly as hard as
the 2 man team that we did in 2009). I am slightly scared of this
race; though, just because I have not been putting in the required
amount of mileage... I believe I could race a really good 50 miler.
To do 100 is going to be a stretch!
5. Of all the things you have done, from UCI Cat 2 elite cyclocross
races to say...riding a fixed gear across the entire country in less
than a week, what was the hardest?
By far, 2 man RAAM with Adam in 2009 was the hardest, hands down, no
comparison. That being said, there are people who do the race SOLO!!!
I can't even imagine how hard that must be...
6. Give us a quick synopsis of how you think things will play out in
Ohio Saturday.
I think I will be able to hang on somewhere that is respectably near
the front of the race until about mile 50-75 or so. After that, I
really don't know what will happen to me. I have no confidence that I
will be able to sustain a race pace effort for the entire
100miles...but I am going to give it my all. I think eating/nutrition
will be crucial to my survival/success. I plan on eating a lot :) As
long as I beat Danny Atkins, my training buddy from MD, I will be
happy haha!
7. Have you got plans to do more mountain bike racing this season?
Oh definitely! I plan on doing almost every race in the Mid Atlantic
Super Series. I will also be racing Stoopid 50 and
Hilly Billy
Roubaix
! Adam and I are going to Hilly Billy with our teammate, Lance
Byrd. We are hoping not to have any flats or mechanicals and have a
strong showing! We do a super hard, race paced training ride every
Wednesday evening. The course of that ride is very similar as far as
elevation/intensity to the Hilly Billy Roubaix course. We are really
looking forward to it.
8. What inspires you do this stuff?

I love to race and compete! Why not do it for a good cause while I am
at it? Cycling is such a selfish endeavor. We all spend way too much
time/energy/money in training, eating right, etc in order to be the
best we can be. It is very self-focused. By using it for charity, at
least it is not 100% self-focused anymore. Still.. I really do it
because I just love to race!
9. You have magnificent hair, but magnificent hair comes with a price.
(Have you ever seen what your magnificent hair looks like in a wind
tunnel?) Would you ever consider shearing your ginger locks for
aerodynamic reasons?
I actually shaved my head halfway through the cyclocross season last
year! I find that if I shave it 1 time per year, I can just let it
grow out the rest of the year and I don't need anymore haircuts! haha
If I thought that shaving my head would make me fast enough in
cyclocross to win the local cyclocross series (
MABRACross
), I would do it in a second...too bad that
is not the case.
10. What would have to happen at the front of the race for you to win?
Feel free to be mean, evil even. We'll all know it's just pretend.

Me winning this race is definitely not happening... but I think there
is $1k on the line for the winner and all my race winnings go to
charity...so AFC would have a nice big donation coming its way.. that
would be pretty sweet! Maybe if somehow a mechanical-instigating,
flat-tire-inducing boogie man infects all of the competition I will
ride to victory! But that type of victory would not really be as
satisfying as it would be to just be the best guy out there. I just
hope I can race hard the entire time without bonking or falling off my
bike too many times.
11. If there could be any restaurant or type of food waiting for you
at the end of the Mohican, what would it be?
Oh man!!! Eating post race is what I do best... lets see... I will
probably gain 5lbs after Mohican this weekend. I would need the
following:
1) fully loaded sandwich (meat, cheese, tomato, mustard, mayo,
spinach,carrots, etc., etc.)
2) oatmeal with cinnamon + protein mix + 2% milk (I will eat this in
the morning before the race too... you can never have enough oatmeal!)
3) king size dark chocolate bar
4) a quality beer preferably dark
5) repeat steps 1-4 three times, adding additional food choices as available :)