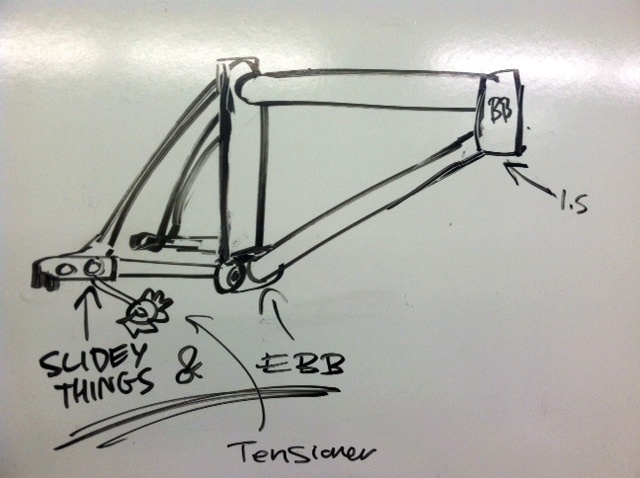 A collaboration between the BigBikes and the Medford, Massachusetts-based
Commonwealth Cycles
has begun. I'm almost as excited about this as I am the Ridley Scott
Alien
Prequel:
Prometheus
. But you can't rail a scifi movie into a berm, so the BB/CC collaboration is markedly more exciting in reality. This bike, which we're calling "BigBikesOne" for now, could be thought of as a prequel to a thing we'll be calling "The Smashing Machine." (If you don't get the reference, that's fine. If you do, you're as big a dork as I am and we should probably talk about our respective plans for "Dork Fest 2012." Maybe we could carpool in my Dork Mobile.)
What the crap is a
BigBikesOne
anyway? A BigBikesOne is an aluminum hard tail with a tapered head tube, supah-dupah tight chainstays, sliding drop outs, an eccentric bottom bracket, an e.13 chainring guide/tensioner, a derailleur tab mounted chain tensioner, and maybe an ENO hub. I do NOT want my chain falling off when I'm riding WICKED HARD and HEAVY in the Middle-sexy Fells dude. If I can figure out a way to add more tensioners, I will freaking do it.
No.
It is going to have
Cantabrigian Mechanics
made sliding dropouts because I have had it with eccentric BBs, bio or otherwise. Check them out in the photo below.
That other thing in the photo? I think that's something from the
Prometheus
movie. Like from a space ship. I don't want to spoil the movie for you, so maybe we'll talk about that later.
BigBikesOne will literally, legitimately dude, have a front chainring guide system of some sort. This, with the aid of some subtle zip tie housing guides, will allow me to convert the bike from singlespeed (it's primary function) to a geared bike within twenty minutes. Conversion speed will depend on how many iced Americanos I've had from
Barrington coffee
that day. I'm thinking it'll be a 1 X 9 because, let's just admit it: ten speed on mountain bikes is just crappy bullshit.
I prefer riding singlespeed nearly all the time, but there are some cases where I might want to switch temporarily to gears. Say if I'm chasing
Jeremiah Bishop down a hill in Tennessee at 30+ mph
.
Oh, and did I mention the wheel size? 649.5 B+.
No.
It's a 29er.
Why 29er? Because I'm a fully grown man-person who likes to go fast and smash it up.
Someday they'll develop a smaller wheel size for women, midgets, and capuchin monkeys who want to pretend they are riding bicycles, until then the aforementioned minority groups should stick to roller-blading, Razor-scootering, and Segway-crashing.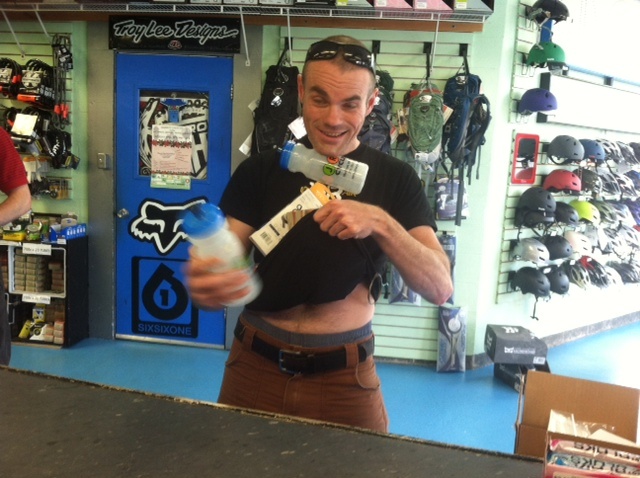 "Bagses? We don't need no stinkin' bagses."
- Me at
JRA Cycles
the other day
Which reminds me of another "story."
Target cashier: "Sir, would you like a small bag for that?"
Sir: "Sure, why not."
Me: "Um, because you're putting a small bag in a...small bag."
Sir: "Asshole."
See you soon-ish.
- t