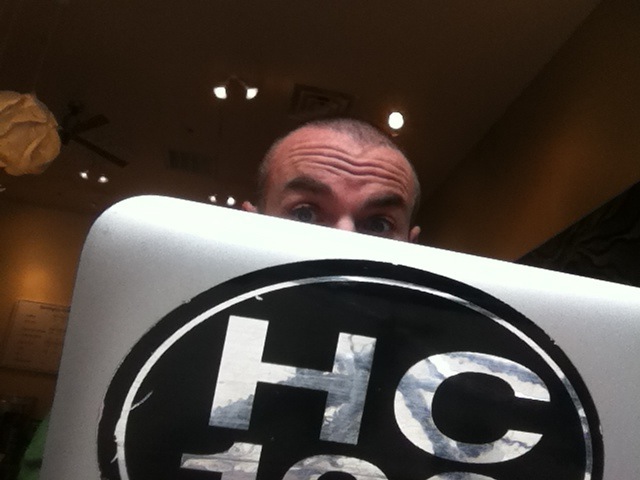 "Thom - are they cool with you riding in the pack like that? I imagine they would be, and it's great for the sport to have that perspective, but just wondering if anyone gives you crap at all?
Nice to see all the singlespeeders smiling so much."
That's an interesting question Funny, one I will answer in blog form.
First off I want to point out that all the pack shots were courtesy of Jeremiah Bishop (Cannondale Factory Racing), at no time was I in a lead pack of riders.
The only time I was in a group of riders at all was when I was shooting Cheryl Sornson and Amanda Carey near the beginning of the race,
but that was single file through the singletrack. I may have interfered with one rider's attempts at making bad passes for the sake of getting more footage of the oft-ignored women of the NUE. But that guy, like a motorist revving past a cyclist to get to a red light, wasn't really going anywhere —
he was still able to finish forty minutes behind the third place woman even though he didn't make that crucial pass in the first thirty minutes of singletrack.
In a hundred miler things get spread out so quickly that it's very easy to find spots to jump in behind riders without disrupting the race at all. There's also a lot of communication going on. I'm telling riders who I am and what I'm doing. Even the guys who know me are often so addled from riding eighty miles at what most folks would consider XC pace that they need reminding, "Up here on the left!" "It's Cyclingdirt dude...Thom P., you're good, keep hammerin'!" Late in the Cohutta highlights vid I run into Justin Lindine and Cary Smith battling it out. I was there as Lindine attacked Smith and cracked him. Smith tells me to come around and I protest, but he insists, "Let me know if you need to come around" I told him. "Don't worry that's not gonna happen, I'm cooked" he replied. It was true, he was shattered, so I rode back up to Justin.
Here's the awesomest part.
What other sport would allow me to do this? Can you imagine a reporter running around the court at an NBA game? What about an NFL game? Even a Pro Tour event or a Pro XCT crosscountry mountain bike event...not gonna happen. That's part of the reason my "other-job" rocks. (Little known fact: I have a "real job." I work in cycling advocacy for the City of Boston.) Yeah, I used to compete in events AND cover them but that was unsustainable. The coverage was lame too, I was only with the leaders for a fraction of the race, and even then only when someone like Jeremiah Bishop played Patron and tried to keep the pace
"Muy tranquilo."
This new method of riding around the course and hopping in wherever I can is better for everyone involved. You also wouldn't believe how pinned these guys are even ninety miles into a race — they are still railing the singletrack and making me breathe hard on the climbs. They are incredible athletes.
Do I get a thrill out of riding with guys like Jeremiah Bishop, Adam Craig, and Sam Koerber? Hell Yes!
These guys are my heroes. I don't follow mainstream sports, I don't even really follow professional road cycling so, as far as I'm concerned, this is it. Riding with Adam Craig, for me, is like riding with Lance Armstrong would be for your average cycling fan. It's that rad. No exaggeration. OK, I do sort of follow mixed martial arts, but jumping in the octagon with George "Rush" St. Pierre for a few rounds doesn't quite have the same appeal that ripping the Pisgah with pro mountain bikers does. I don't know why. Wait, yes I do...I don't want to get elbowed in the face by dudes with crazy-chimpanzee-strength, that's why.
And I rarely get elbowed in the head while covering cycling events. Unless Andrea Smith is around.

Wicked freakin' happy trails y'all.

- t
https://twitter.com/BigBikesMedia