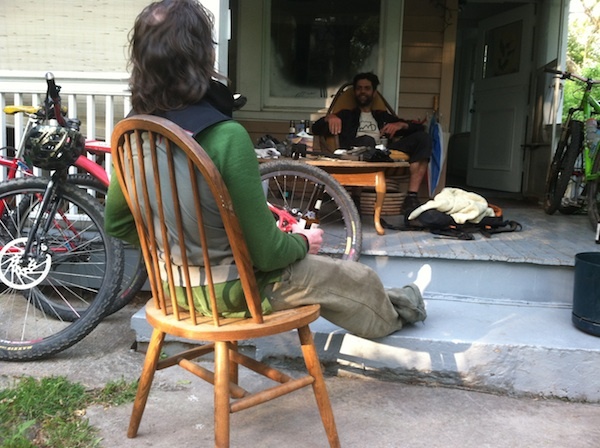 Down in Asheville, North Carolina and it's looking like a ride isn't gonna happen today.
I'm using the weather as a convincing way to "cry wolf."
Let me explain.
On the rare yet very enjoyable occasions when I get to ride with Gerry and the Washington Square Tavern Crew I get to witness a phenomenon called "crying wolf."
This occurs when a rider with little chance of cleaning a section blames the dude who bobbles in front him for his lack of cleanliness.
"WOLF! WOLF!" the rest of the crew shouts.
I was just talking to a local Asheville rider named John (who will be at the Cohutta 100 Saturday, doing the shorter "
Big Frog
" race), he told me of a similar practice he and his buddies had growing up — if a dude started getting big, talking about how he was gonna kick some guy's ass for messing with his girl or something, another member of the group would say "Buckets!" Picture a dude holding two buckets, it's a similar stance to that of a man attempting to look big.
So I'm crying wolf with the weather as my excuse for not riding today when the real reason for not riding today is that I am just freaking whooped after two days of chasing Marshall "
Mtn. Air Roasting
" Hance around Pisgah and Asheville (there will be video...in fact it's already edited, watch for it). He is one of the most ninja riders I have ever ridden with, and all on a custom 29-26er single-speed with a rigid fork. The whole time I was riding with him yesterday, ripping my legs off to bloody stumps, I was thinking of how much chasing dudes around the Cohutta course with a GoPro chesty-cam is going to hurt Saturday and how excruciating Singlespeed-a-polooza is going to be beyond that. Not much beyond that...it's the next day, fourteen hours away by miniature van. But that's the insane plan.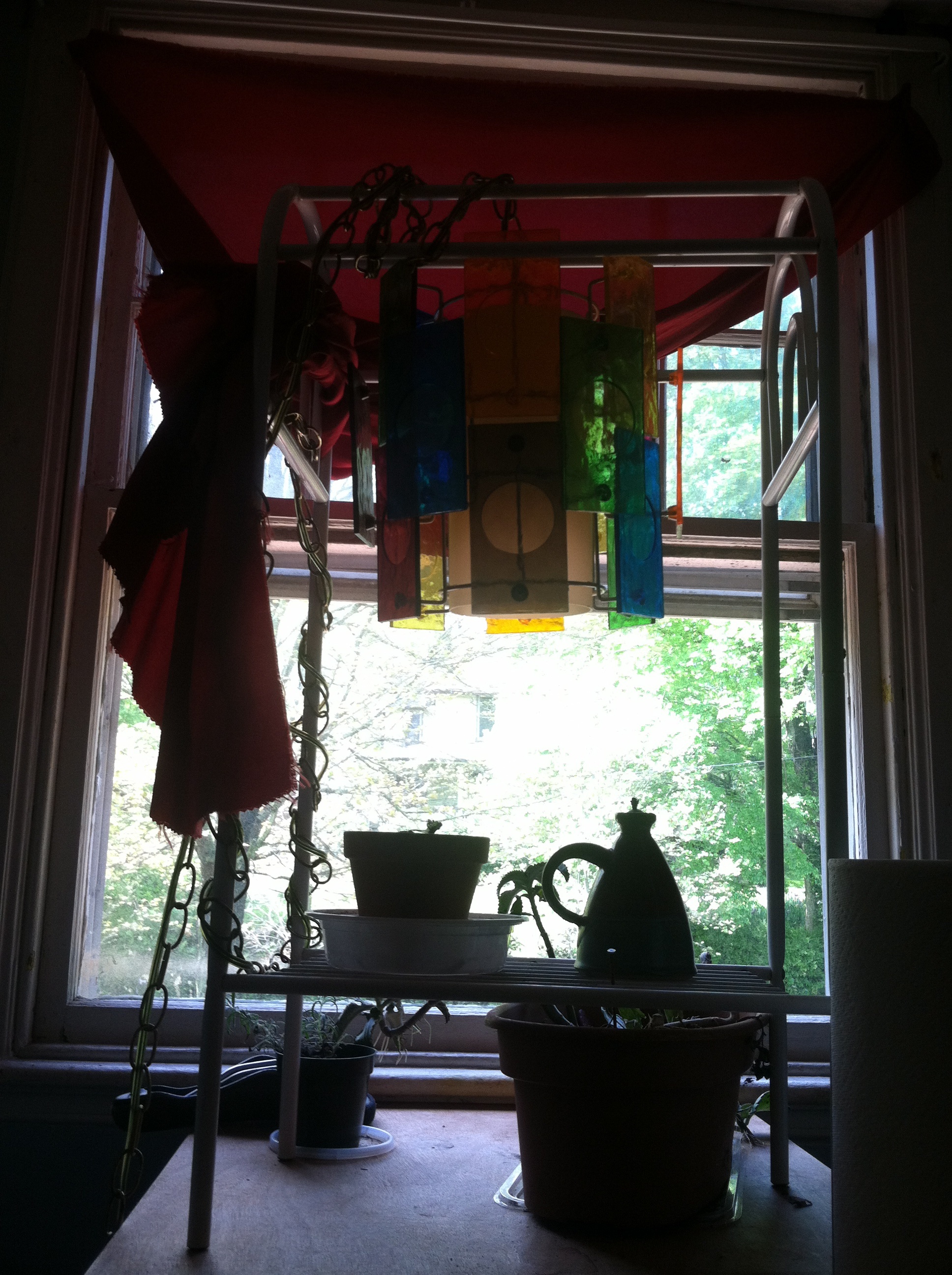 (Even better than Dunkins kid!)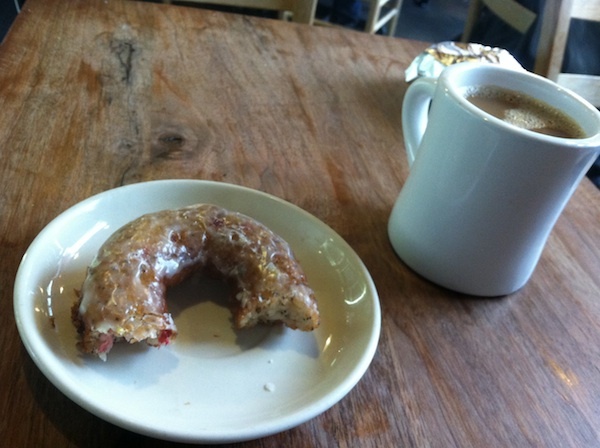 Wednesday is Donut day at
Tod's Tasties
. Lemon-poppy and strawberry right there. Get there early, they go fast.
Since the weather (and my legs) aren't cooperating (probably due, in good part, to the 34 X 16 beatdown
they took in Pisgah Sunday
) I have opted to blog and edit sweet footie from my satellite office at
Tod's Tasties
. I love Tod's. In fact, today I have transitioned seamlessly from stimulating brown liquids to depressing ones. Eh, there's not really anything that depressing about a Green Man IPA. I will probably eat dinner here. Maybe if I'm nice they'll let me sleep here. Not that crashing on Endless Bike Shanna's futon and going out for daily rides with Pisgah Works Bruce and Mtn. Air Marshall and then drinking beer has been all that shabby.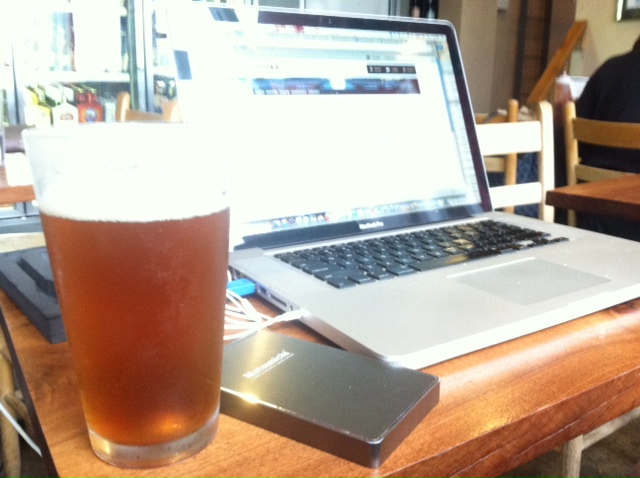 Speaking of not-shabbiness...
the aforementioned Washington Square Tavern crew are selling their exceptionally sexy cycling kit for charity. Proceeds go to benefit New England Disabled Sports.
Check them out. Seriously
.
It's Thursday night, pretty sure I'll be staying in Asheville then driving the, what is it...two and a half hours to Ducktown, Tennessee in the semi-early AM to the Cohutta 100 check in. Maybe I'll grab a couple pre-race interviews. Let me know if there's anyone you want me to look out for or any inane questions you want me to ask...this is a group effort here. Hoping to do some course scouting...find some good spots to shoot and figure out which trail sections to chase folks on. And now this is exciting — Jeremiah Bishop is not only coming to the Cohutta, he is running a camera for BBM & Cyclingdirt. That dude will be in the mix...that is if he doesn't fire the rocket boosters from the gun and fly off into orbit never to be seen again. That's the risk of putting a camera on a rider of that caliber, you might end up with two hours worth of open trail shots without another rider in sight.
"Since You Been Gone" by Rainbow just came on my totally massive, totally random iPod mix. Sorry, but I have to go rock the f—k out.
We'll talk soon.
- t
https://twitter.com/BigBikesMedia