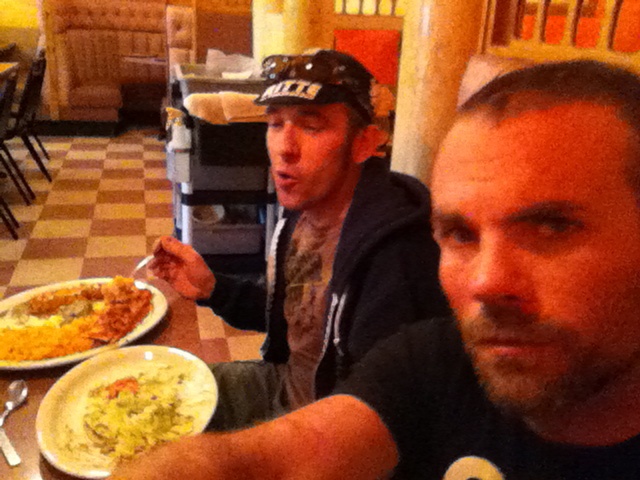 "I don't always read blogs, but when I do, I prefer
Team Dicky
."
- The world's most irritating man
I've been out of the blogging game for a while. And when I don't blog, I don't read blogs...except for
Team Dicky
. When other people think about cycling blogs, they think about Fat Cyclist or Bike Snob, not me. Bike Snob? Too edgy. Fat Cyclist? Not edgy enough. Team Dicky? Just the right ratio of edginess to non-edginess (I believe it's a two-to-one ratio). Another reason Rich Dillen, aka "Team Dicky" is superior to Fatty and Snobby is that he can lead a tour in the Pisgah National Forest and shred and rip the gnar on a 29er single speed. And that is just what he did yesterday.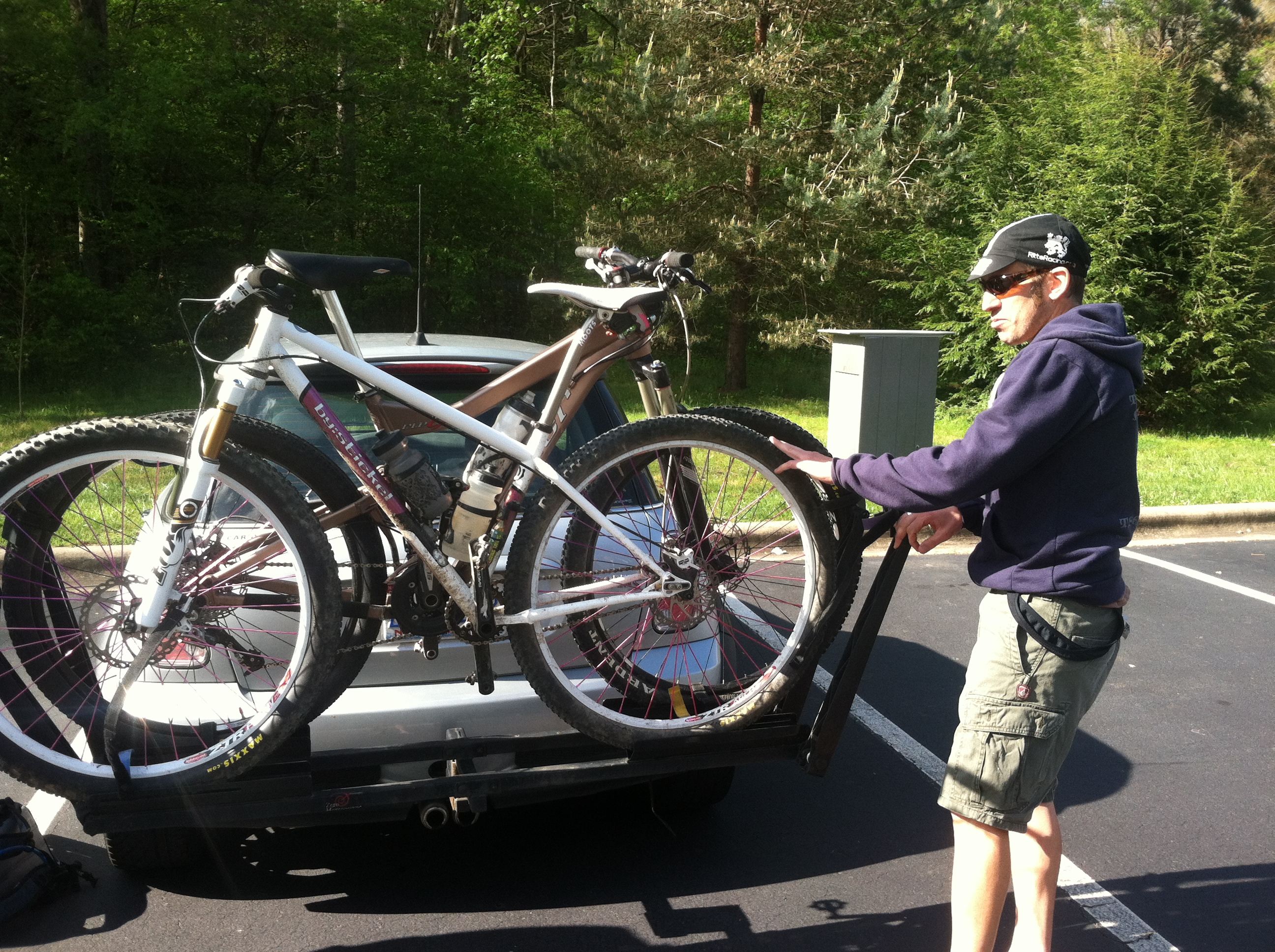 Nice
ByStickel
.
Dicky met me at the Fish Hatchery down in Brevard. I'd gotten there an hour early to swap out my wussy-ass tires and huge-mongo gear I had on for last week's
Ronde 3.0
— an on/off-road 70 mile race in Boston-ish best suited to cross bikes, not single speed 29ers (what we lacked in open-road speed, we made up for with radness in the trail sections...and then we flatted a lot and lost focus). The set up I had on my One 9 was more ideal for 26 mph, rail trail pace lines than churning up three mile climbs in The Pisgah. My gear was a 34 X 16 and my tires were 1.9 low tread total lameness.
Here's the stupid part.
I had shortened my chain to accomodate the silly-big gear and I had neglected to bring a new chain or the few links necessary to rectify the situation with me to NC. There were plenty of larger cogs in the miniature van, but no chains. How Alanis-Morisette-ironic.
The tire swap went well. Any day you can set up some tubeless tires in a parking lot without a compressor is a good day. There may be a time lapse video of that process later. All the angry weridos who followed me over here from BikeRumor! can sit there and tell me how I'm doing it all wrong – "YOU DIDN'T INVERT THE BOTTLE OF STAN'S LONG ENOUGH...GAWD F—K!"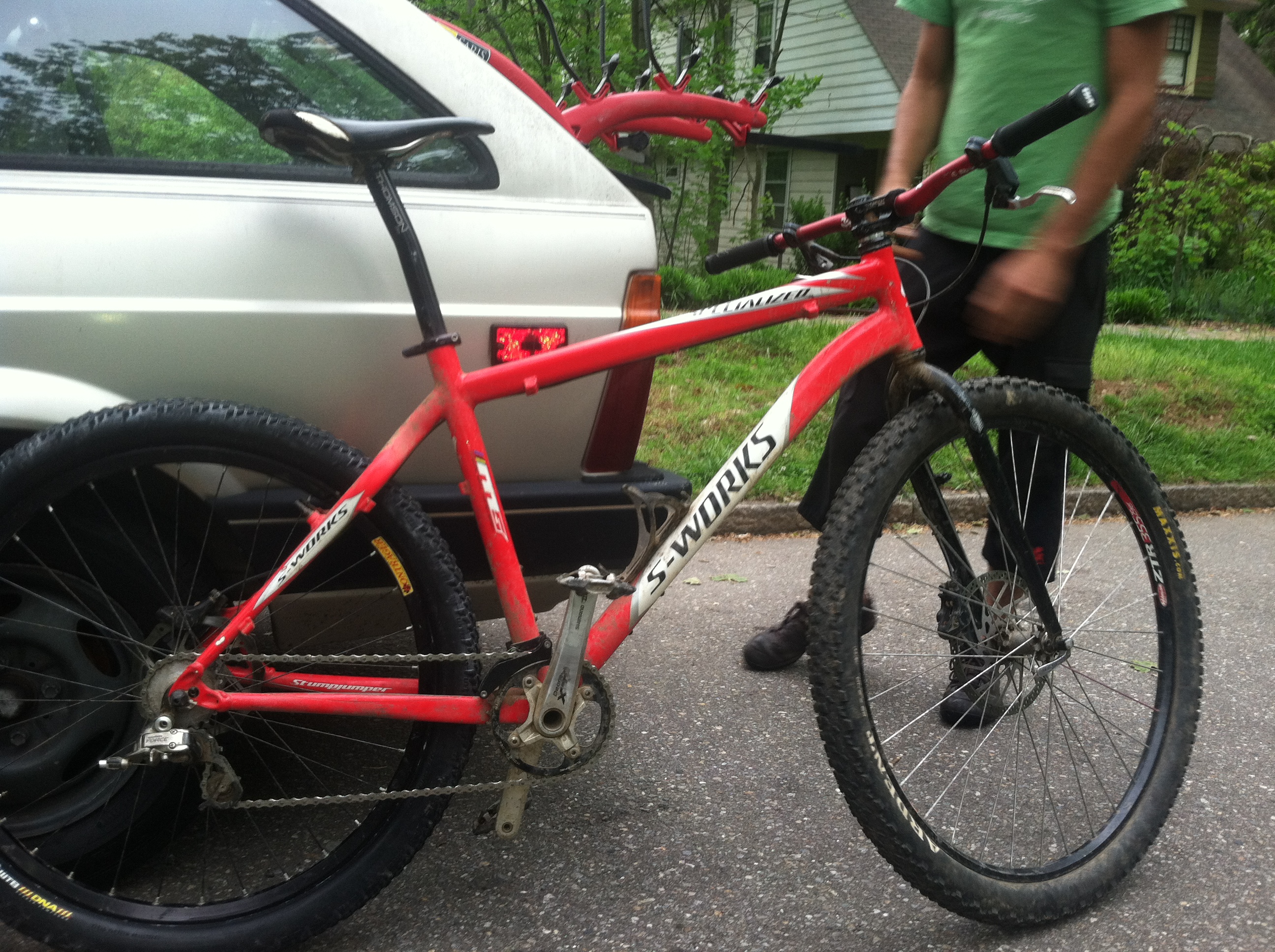 The above bike belongs to Marshall "
Mtn. Air Roasting
" Hance. He did not come ride bikes for fun with us in Pisgah. He went down to South Carolina to race his bike. Marshall is wicked SMAAHT and hence he has discovered the truth about singlespeed chain tensioners: they all suck a big fat thing that you suck on and the only real solution to tensioning the chain on a bike that isn't a real single speed is to use a road derailleur that is high on quality short on caginess.
Just remember: if you argue that point with me, you're also arguing with Marshall "I Will Un-F*cking Friend You On Facebook" Hance. Watch out.
And while we're talking about anachronistic photos...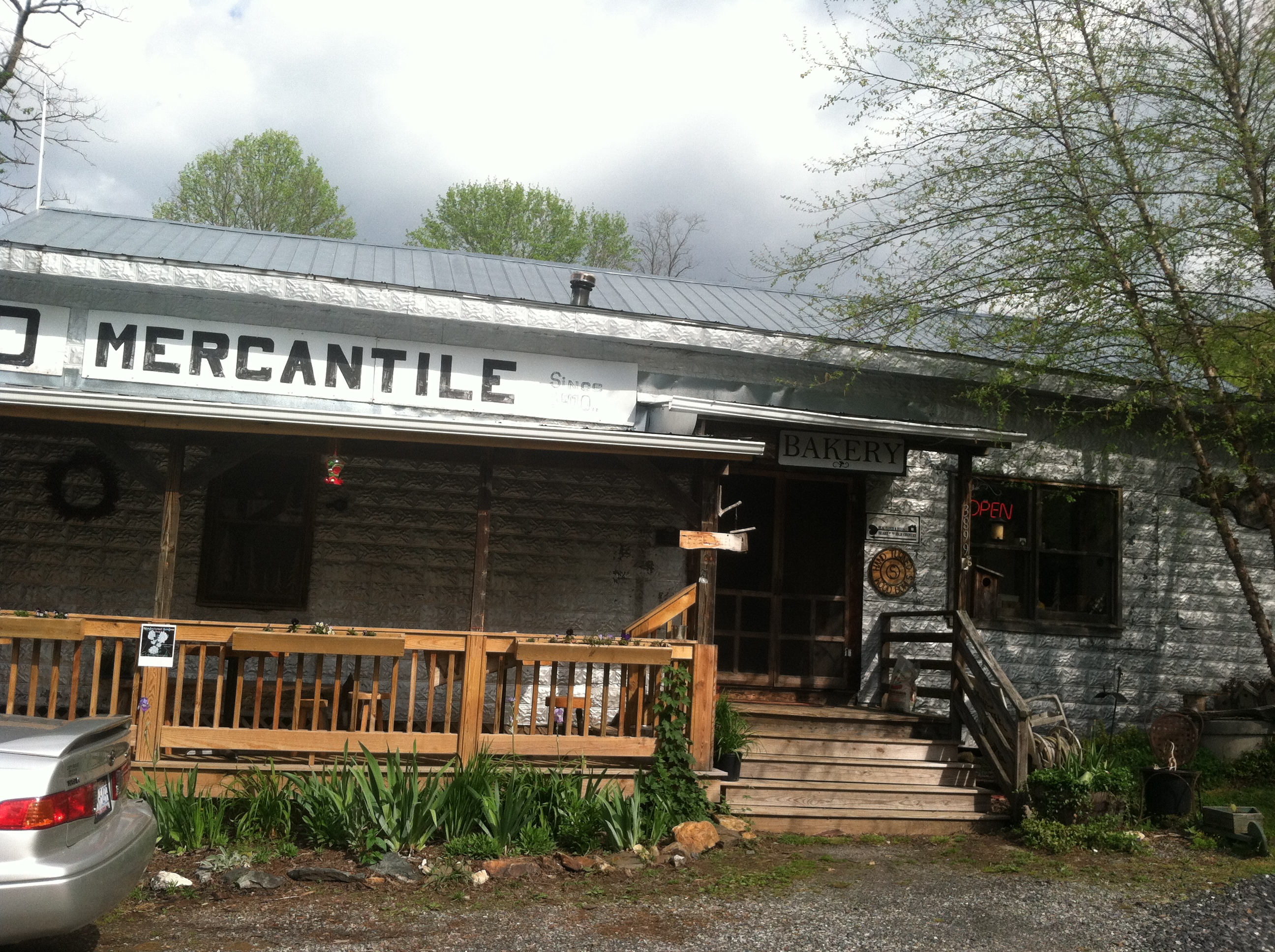 During
Boone Roubaix
I jetted ahead of the race in the miniature van to scout out some sweet, wide shots of the riders. I felt like I was safely ahead of the field, so I strolled into this place to grab a coffee and some muffins...then the race blew by. I ran out the door spilling coffee and fumbling for my keys. I think I remembered to pay.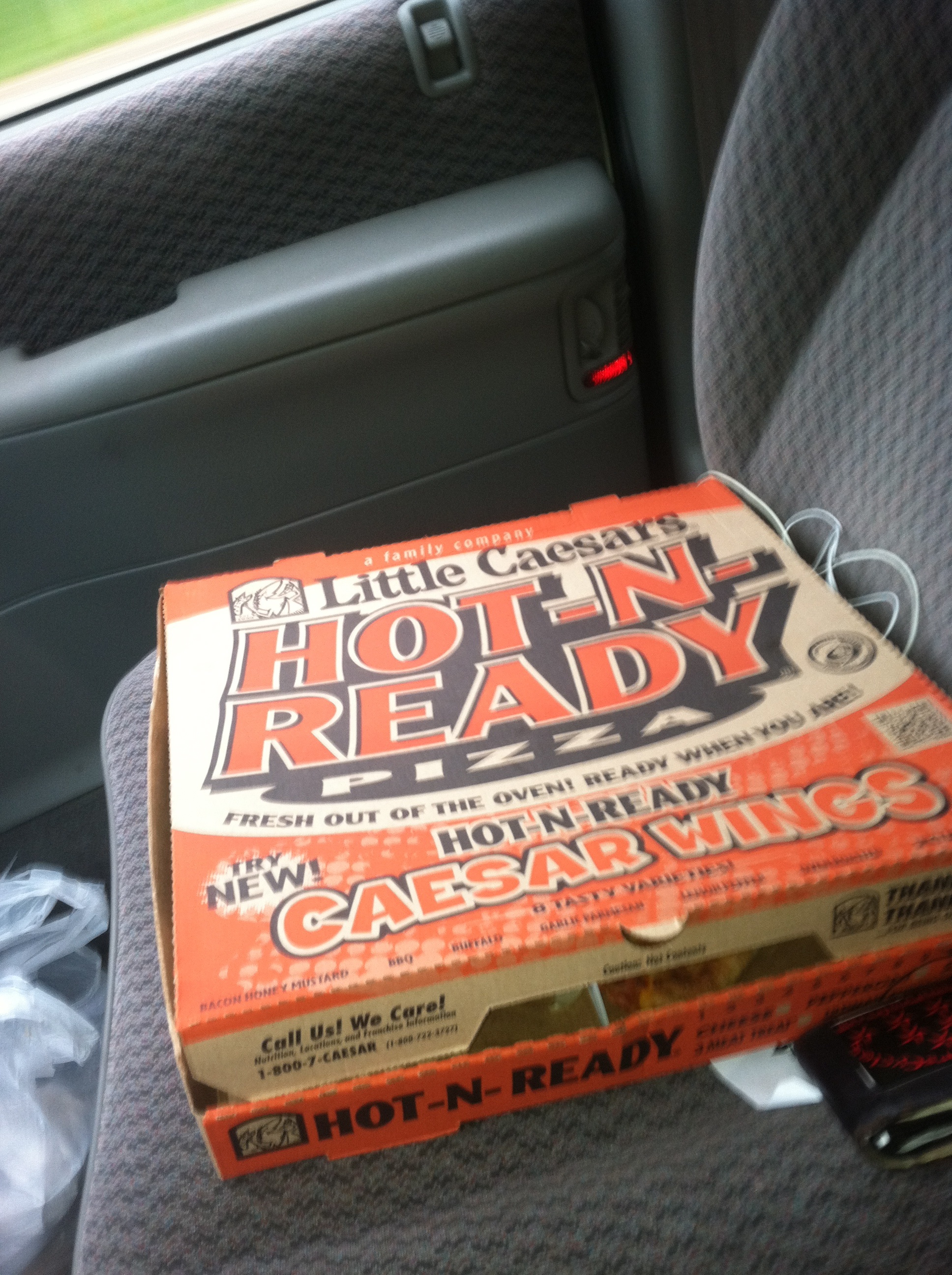 This will make sense in a second, bear with me.
On Saturday night when I rolled into Asheville, I went straight out to meet Shanna "
Endless Bike
" Powell. I don't think I really had dinner. As I was driving home solo at about midnight, I started looking for places to eat. I was sitting at an intersection when a guy walked up to my miniature vehicle. He motioned for me to roll down my window, and I did. "Hey man, do you want some free pizza?" "Are you serious?" "It might taste like onions or some shit, but yeah." "Um...OK." "Cool, wait here." When he came back he was holding a large Little Caesar's pizza. He handed it through the window and said: "JESUS FUCKING LOVES YOU MAN!"
And that is what I had for dinner — Roofie and onion pizza, hold the roofies.
It wasn't an early night and the plan was to meet Dicky at 9:30 AM, about an hour away. But that's all right, I'd gotten a solid two-and-a-half-hours sleep on a deflated Therma-Rest in the back of a van the night before. I was feelin' good!
Another reason why I was feeling good in a non-Alanis-Morisette-ironic sense: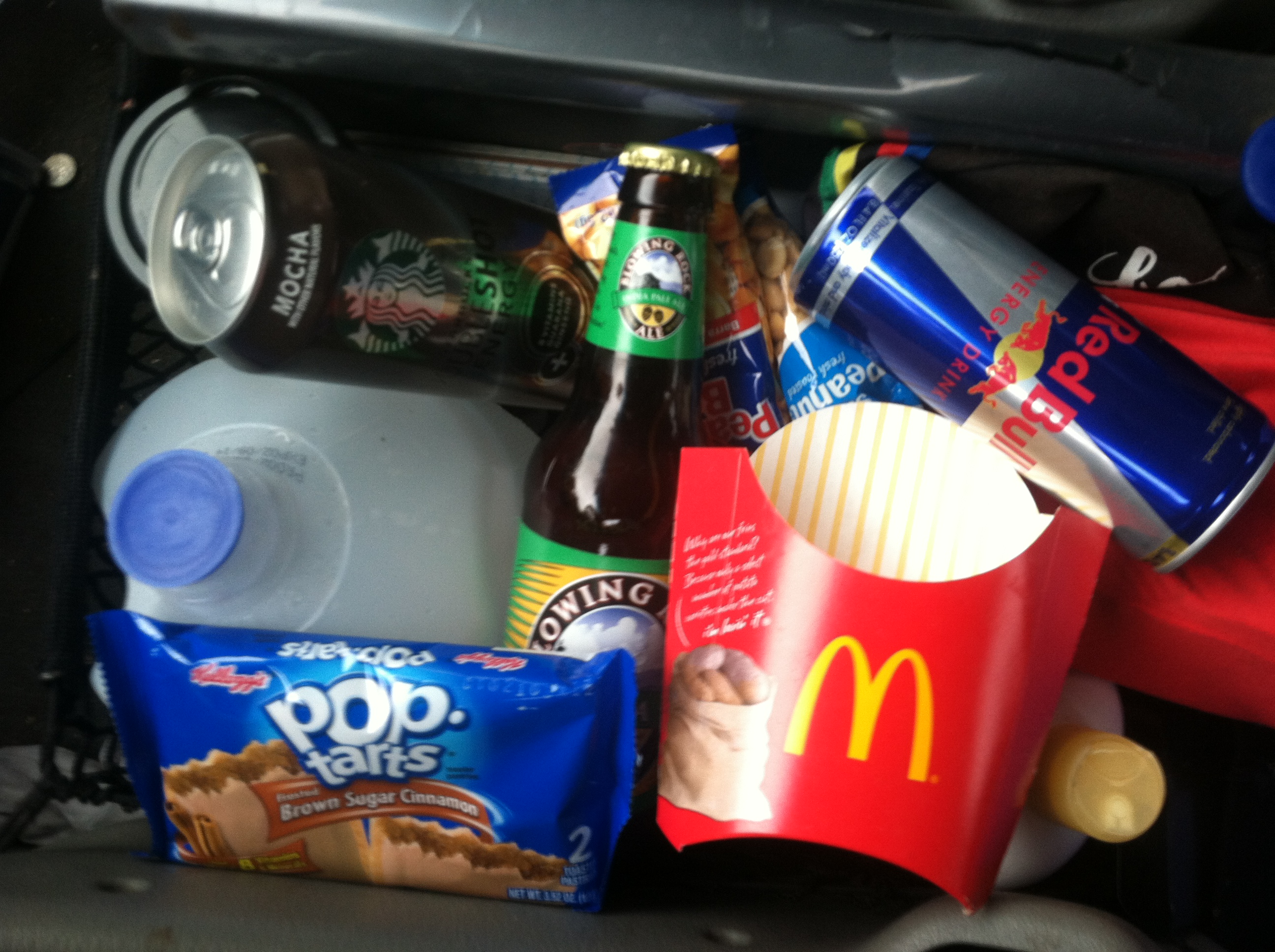 A (still life) picture of health.
Given the tight timeline I didn't have the leeway to stop for breakfast en route to the fish hatchery. Good thing there was half a cold-ish onion and roofie Jesus pizza in Miniature Boogie Van!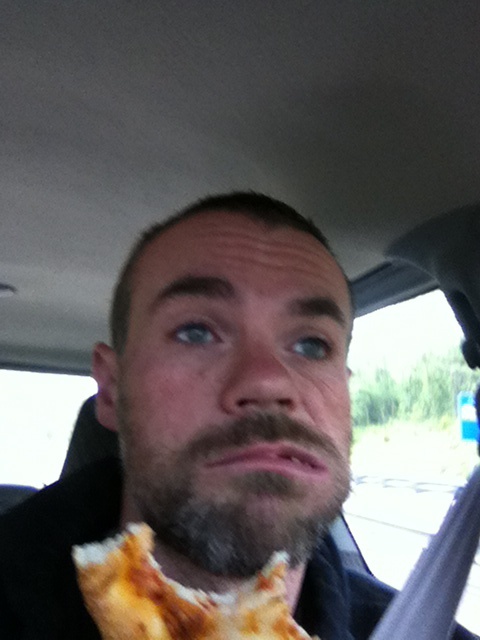 Thank you Jesus, some sketchy dude on the street, and Little Caesar.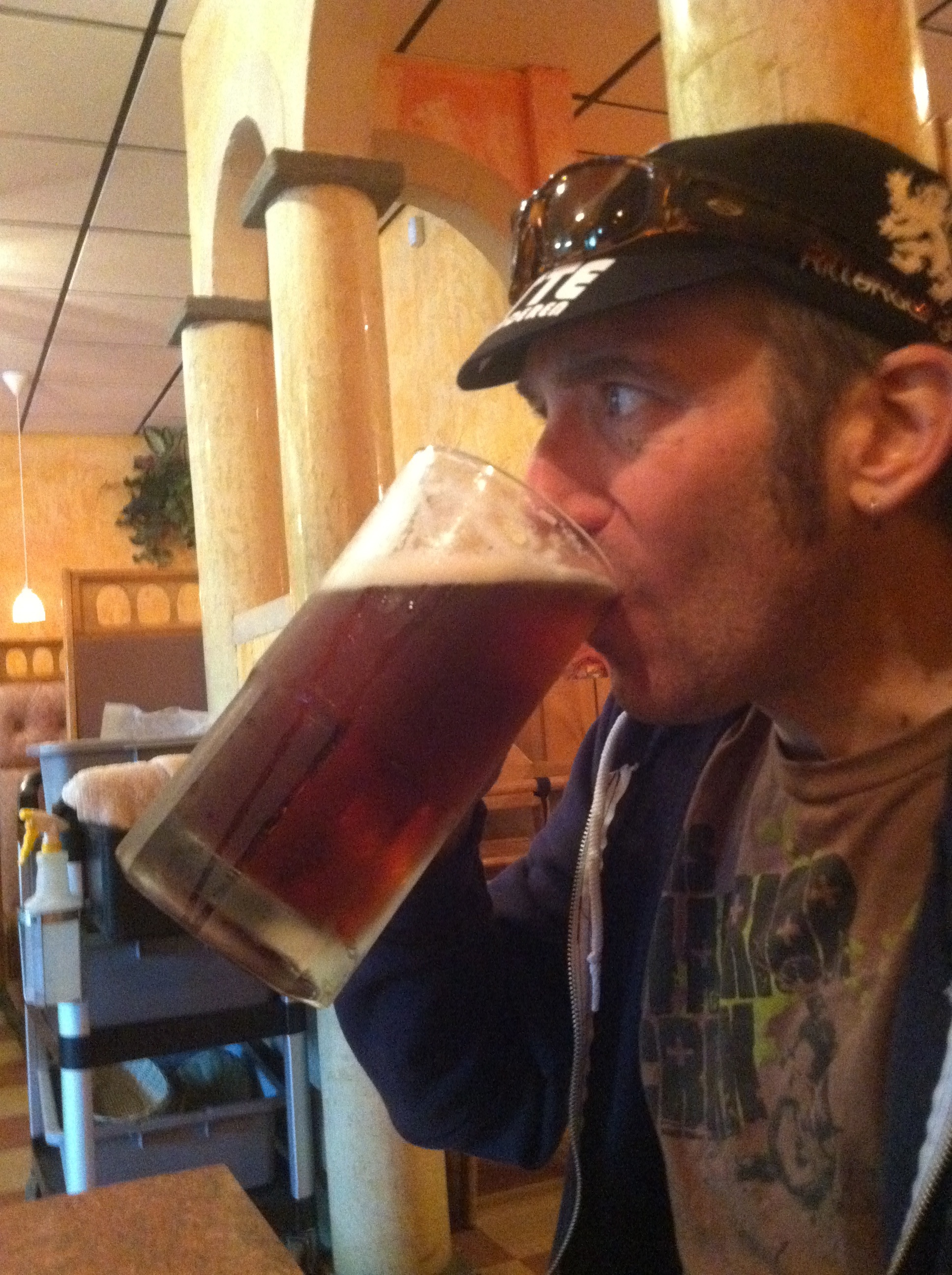 The awesomeness of the ride in Pisgah with Dicky will be conveyed via
video form
. I did attempt to run him down like I did Jut Rut
back in February
...and I caught it all on video. What can I say, brakes don't work in the air. Speaking of videos...the
Boone Roubaix highlights
(set to a sweet Joe Strummer and The Mescaleros tune) are up.
Time for beers with Endless Bike Shanna and
Pisgah Works
Bruce.
I feel like I'm livin' the dream. Shoot, I better be livin' it because I sure as hell ain't sleeping enough to dream it.