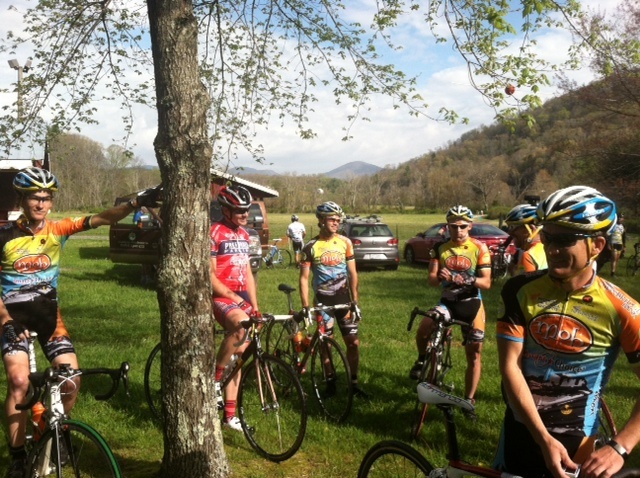 While the tires are cooling on the totally-abused Miniature Boogie Van and the files are moving from the GoPro and Contour HD over to iMovie, we have a moment to chat. Chatting to me means that I am going to yammer caffeine-atedly while you pretend to listen and fantasize about hitting me in the face with a cafeteria tray.
You can blame
Espresso News
and their free re-fill policy.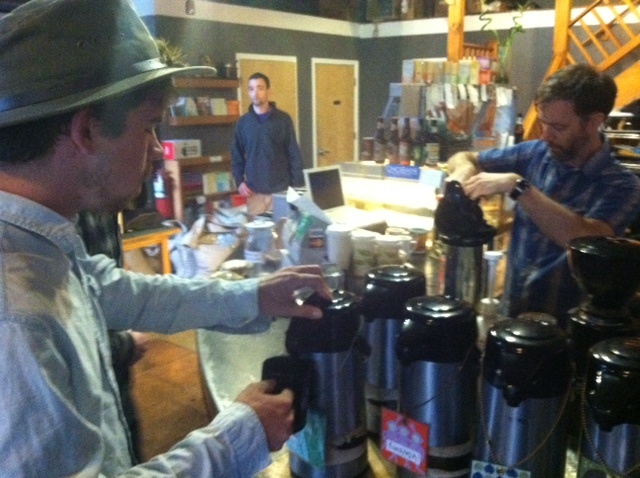 The first race in the
King Of Pain Series
-
Boone Roubaix
was, as promoter Andrew Stackhouse would say: "rad." (Not judging. I'd say it too, without a tinge of irony. "Rad" is an awesome word.) It was a beautiful day, the course was killer — lots of climbing, fast descents, gorgeous views...really well marshalled and marked. All the participants had to do was pedal wicked hard and try not to lay it down on the gravelly corners.
Oh, and I definitely won the Miniature Van race. Hey, I see how you're looking at me. Calling a miniature van a "mini van" is, I've decided, completely pejorative. It's like the "M" word. OK, the
shorter
"M" Word. Calling a miniature van a "mini van" is like calling a little person a "midget." (Midget, that's the other "M" word.)
A lot of the shooting today was done with a GoPro suction cup mount affixed to the front bumper. Yeah, a couple times dudes thought I was an INSANE local, riding up their asses, but man that footie is gonna be sweet! The MBV hasn't spent that much time squealing and sideways since
Southern Cross
.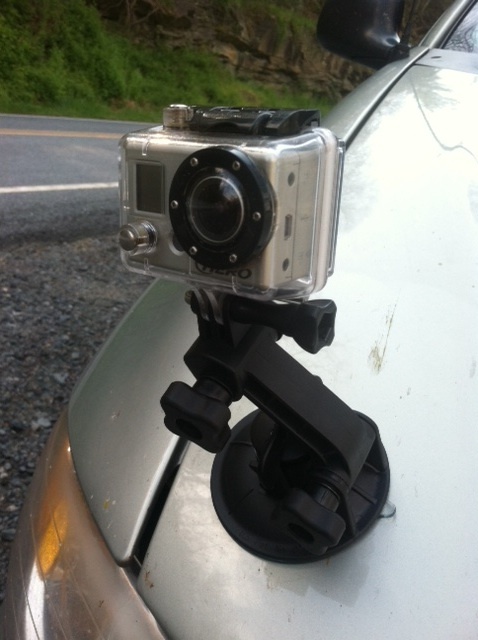 The suction cup mount stayed put even while going 50 mph down rutted, gravel roads. The only issue I had was slippage (of the hardware, not the cup), but that was merely a nut-tightening issue and it only occurred once. Can't wait to see all the spectacular footage of the ground. It'll look like I strapped a helmet-cam to a running three-year-old.
We also had a helmet-cam, a Contour HD, on Mike Van from
Mock Orange Bikes
. MOB was in full force today — one-twoing the overall and placing a bunch of their riders pretty high up. MOB rider Joe Carpisassi took the win just in front of his teammate Jay Cox. It was a very amicable sort of finish. This was also Joe's second Boone Roubaix title. How many Boone Roubaix titles does this greedy Joe-guy need? Someone should come down and try to take it from him. The MOB squad controlled the race almost from the gun, with five riders setting the pace...a pace that proved to high for a all but a handful of riders. The major selection happened on Ben Bolan (I think that's what it's called), a five mile, paved, road climb. After that it was basically three guys — Carpisassi, Cox, and third place finisher Natham Trimble.
In the women's race it was a battle between uh...Melissa and uh...Donna. I don't have the results in front of me, those will be up later. Pathetic, I know. Melissa was leading the race when she flatted, allowing Donna to take the lead and keep it.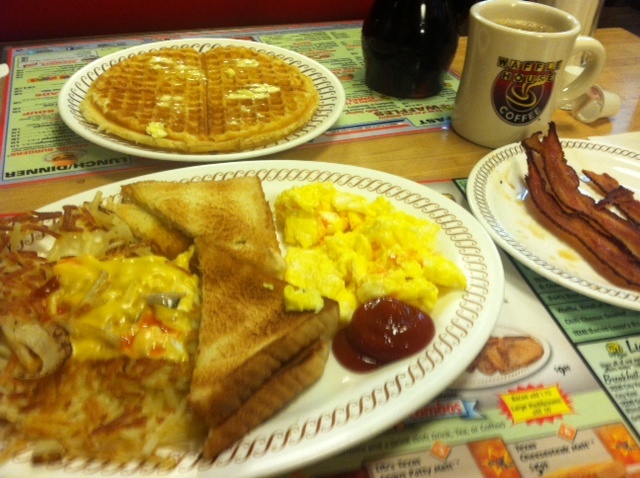 Two things overheard at Wafflehouse at about 11 PM near Roanoke, Virginia last night:
"If a man is supporting me, payin' my bills...he can tell me what to do. If I'm payin' the bills...hell no!"
"It looks really cool, they got Nascars and Harleys hangin' from the ceilin'."
I may or may not have said one of those things. I'm not telling you which one.
I got into Boone at 2:30 AM last night, drank a beer, slept in the MBV for about three hours, and, for some strange reason, my brain is fried. All I know is that tomorrow I am riding Pisgah with
Team Dicky
on my meandering way to cover the Cohutta 100 in Tennessee next Saturday. Yes, that came through. We're looking at a fairly solid coverage of the
NUE Series
here. More on that later, I've got to miniature-van down to Asheville to see
Endless Bike
Shanna and drink some beer.
And yes, the INSANE plan is to be at
Singlespeed-a-polooza
in New York the day after the Cohutta...and race it...and it's fourteen hours away.
Dough
has his INSANE PLAN to ride to most if not all of his races this season on a singlespeed with nothing but bike-packing equipment, and I have my INSANE NON-PLAN of going into every event on a fourteen hour drive and three hours of sleep. Yeah, yeah, mine's more stupid than insane. Why do you always have to be so right all the time?
That's it for now.
- t