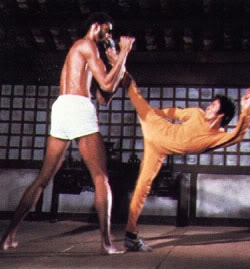 When I Google image-searched "Lee Champion," I found not a single photo of a bicycle racer. What I found was the above photo of Bruce Lee kicking Kareem Abdul Jabbar in the face AND a mug shot of a woman with a tattoo on her face.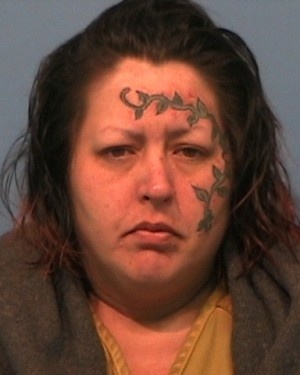 Both of these things are kind of bad ass and, based on his answers to the questions below, Lee Champion the bicycle racer is kind of a bad ass too. How much of a bad ass he is will be determined Saturday at
Boone Roubaix
: "The Hell of The High Country" in Boone North Carolina.
11 Vaguely Boone Roubaix-Related Questions:
1. What do you know about this Boone Roubaix thing? What exactly are you doing up in northern North Carolina on Saturday? Tell us all about it.
Big ring hard, have fun, ride steep hills through NC mountains ... best ride in the south east
2. What kind of bike are you riding — cross, road, 29er...uni-cycle, and why?

BMC - ProMachine / Vittoria Pave tires
3. Are you gonna win? If not, why not? And who is?

Always try to ... if not, someone that's fit and has the least bad luck
4. Define "Roubaix." Does it mean that the race finishes in a velodrome and that you have to shower in weird-communal-showers afterward?
Hard, Painful, Long, Epic ... and you have to be dirty and have dodged at least 9 punctures
5. Is this just a training race for you or are you taking it WICKED serious?

a little bit of both
6.
How does your bike set up differ from the way you'd have it set up for a "normal," much-wussier race, if at all?

just the tires ... Vittoria Pave
7. What super-famous pro cyclist (besides yourself of course), from any discipline, would you like to see come do Boone Roubaix? (Even if it's only so you can see them suck big time.)
Andrea Tafi or Sean Yates .... (or Hincapie, Boonen, Museeuw, Ballerini, Vansummeren, lars boom, Trebon, Ted Nudget)
8. If Boone Roubaix were one, big UFC cage fight, who would win?
someone big, strong like Yates or Tafi
9. What is your plan of ATTACK?
hang on / go cross-eyed up the hills / miss the rocks
10. What is your favorite guilty-pleasure-reward-food? (And it doesn't have to be legal in this country.)

big lunch with the family, nap then big dinner
11. Are you doing any of the other events in the
King of Pain Cycling Series
?
2013 Boone - Roubaix !