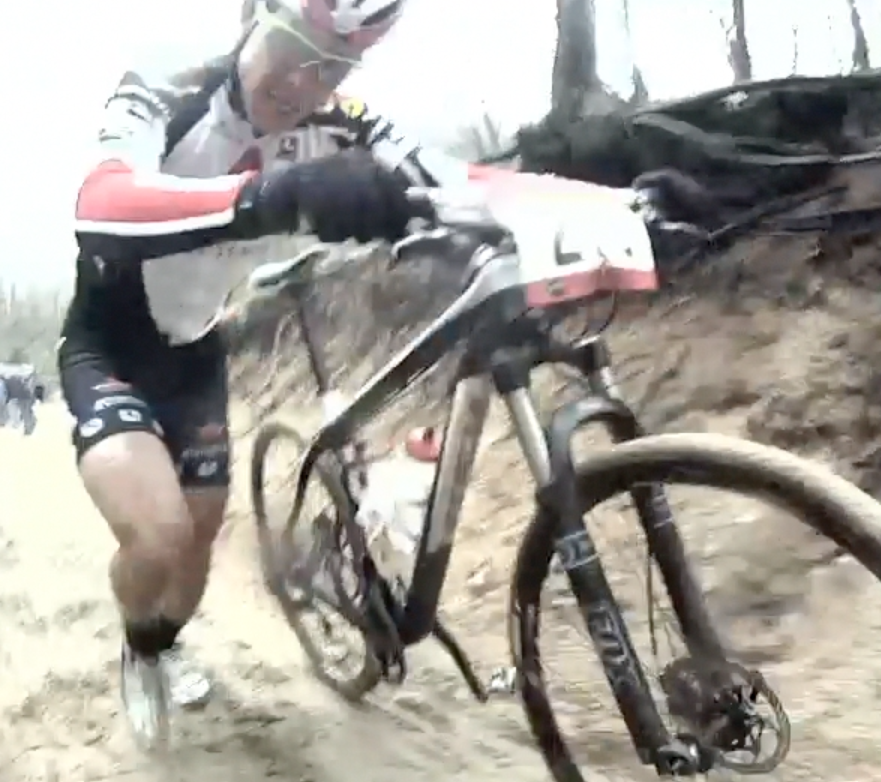 It was approximately three times warmer at this year's Barry Roubaix than it was last year. (It was 19° at the start in 2011.) The only adversity came in the form of wet conditions, some late rain, and the inherently really frickin' hard 62 mile gravel/dirt/pavement course with its relentless, punchy climbs. Barry Roubaix is always a test of early season form — Mike Anderson (North Country Cycle Sport) and Amy Stauffer (Priority Health Cycling Team) showed that they had that form by winning their respective races.
Anderson and Bissell Cycling riders Derek Graham and Nathaniel Williams pushed the pace through the rough and muddy Sager Rd. section to make a selection early on. After that it was a six man lead group for most of the day with a pack of chasers including Graham (who didn't make the selection), Mike Simonson, and favorite, Adam York hovering more than a minute back. Bissell rider Alex Vanias made a valiant yet suicidal attempt to bridge the gap, getting within shouting distance of the leaders before cracking and ultimately falling back to twentieth.
The final selection was made in the Shaw Rd. section. Shaw makes Sager look like a cake walk. Speaking figuratively of course. If we were to speak literally for a moment, Shaw is more like a cake walk. It is very much like riding (or walking) through cake. Horrible tasting, entirely inedible, cake. There Anderson and Matter ran away from the competition. Williams did his best to hold on but had to settle for third place as the other two riders with their strong mountain bike skills, wove their way through a series of slippery mud puddles and escaped out onto the final road section with a sizeable gap.
It would come down to a sprint in the end. Anderson starting it out early and Matter unable to answer. The young buck taking down the veteran. File treads taking down knobbies. (Matter vows he will run file treads next year.)
In the women's race it was all about who could tack herself onto the stronger group of male riders. That, and skill. Samantha Brode and Amy Stauffer were able to ride more of Sager Road than their competitors, coming out of the muddy fracas on top. From there they jumped in with some strong dudes and rode off into the sunset. Third place Kathy Everts didn't make the Sager Rd. move but she was able to leap frog from group to group to get away from her chasers: Stephanie Swan and Amelia Moore. Fourth place was decided in a sprint with Swan besting Moore.
Check out our full video coverage for more details:
http://bigbikesmedia.cyclingdirt.org/coverage/248533-Barry-Roubaix-The-Killer-Gravel-Road-Race/video/623411-Shaw-Rd-Leaders-Running-The-Sand-Barry-Roubaix