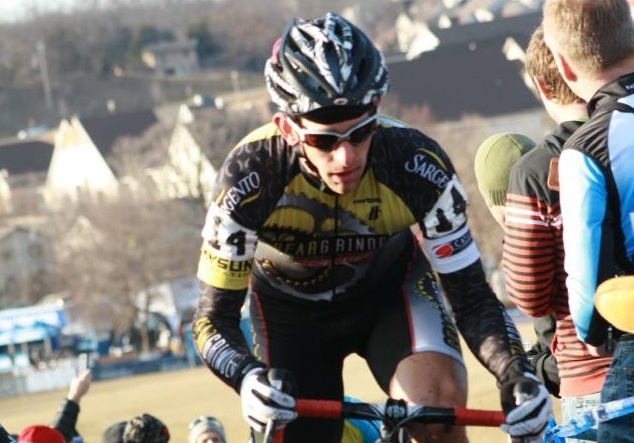 Brian Matter finished 8th at
Barry Roubaix
in 2011. He was riding a Trek Top Fuel 26" full suspension bike. That's like using a sledgehammer to put a thumbtack into a bulletin board. This year he's riding a proper cross bike. We're thinking the outcome might be a little different. Tune in Saturday night, March 24th to see how it went down.
11 Vaguely Barry Roubaix-Related Questions:
1. What do you know about this Barry Roubaix thing? What exactly are you doing up in balmy semi-northern Michigan on Saturday? Tell us about it.

Barry Roubaix - I don't know much about it - I think my brain was frozen at the start line last year so....yeah - I do remember thinking multimple times I wish I'm not on a Top Fuel last year! I don't really know why I'm going - I've just traveled across the country and I'm pretty blown out...but something about the race - I think its the name!
2. What kind of bike are you riding — cross, road, 29er...and why?
Trek Cronus CX - It's faster the a Top Fuel!
3. Are you gonna win? If not, why not? And who is?
I think I'm more fit than last year - and being on a cross bike is going to be like cheating compared to being on a 26" full suspension!
4. Define Ultra CX. Is it just like regular cross, only with more lasers?
Utra CX - sounds like a beer that Lance would drink???
5. What is the appeal of gravel road or Ultra CX racing for you?
Early season test of the form and its always exciting to see who rides what bike.
6. How does your bike set up differ from the usual for a gravel road or Ultra CX race, if at all?
Same set up - last time I touched the bike was 10ft past the finish line at cross nationals - Its been in the basement and I've been riding my Top Fuel in Tucson!
7. What super-famous pro cyclist (besides yourself of course), from any discipline, would you like to see come do an Ultra CX race? (Even if it's only so you can see them suck big time.)
I'd like to see Sven show up and let it rip on the dirt roads.
8. If Barry Roubaix were one, big UFC cage fight, who would win?
I'd tag team up with the Simonster and we'd kick some ass (I was a high school wrestler - he was a high school drummer).
9. What is your plan of ATTACK?
My plan is not to attack!
10. (No Googling on this one) Why is the race called Barry Roubaix? (Even if you know the answer, feel free to make something up involving Barry Manilow, Barry White, Barry Goldwater or all three.)
It must have something to do with the Copacabana???
11. If you had a gun, with two bullets, and you were in a room with Hitler, Bin Laden, and Garth Prosser, what would you do? (Hint: if you answered anything besides "Shoot Garth Prosser twice" you are WRONG.)

I don't like guns.