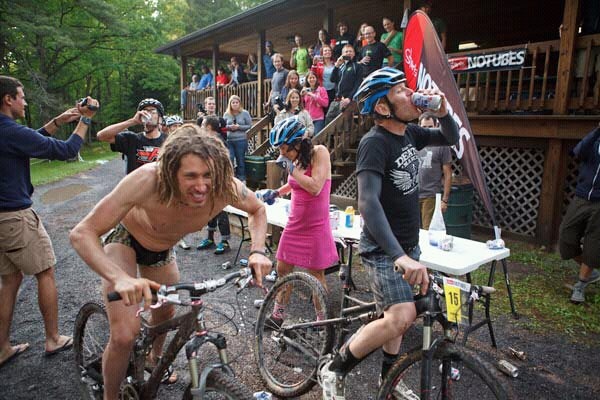 Garth Prosser didn't finish
Barry Roubaix
last year. It is called the "Killer Gravel Road Race" and it tried to do just that — dashing him to the ground and
breaking his collarbone
shortly after the start. Of course, if you ask Garth,
Gerry Pflug
"shot his tires out" and made him crash. But that's Garth's excuse for eveything.
11 Vaguely Barry Roubaix-Related Questions:
1. What do you know about this Barry Roubaix thing? What exactly are you doing up in balmy semi-northern Michigan on Saturday? Tell us about it.
For one, I don't have to drive through PA to get there. two, I heard that mushroom (morel) season was early this year so I figured I'd kill 2 birds and ride my bike while there. And three, MI is known for its interstate massage parlors so.....
2. What kind of bike are you riding — cross, road, 29er...and why?
Unicycle , guaranteed win in my category.
3. Are you gonna win? If not, why not? And who is?
No. One answer; The pigs are always harshin' me, man.
4. Define Ultra CX. Is it just like regular cross, only with more lasers?
It's like cross, without all the dickheads. (We hope.)
5. What is the appeal of gravel road or Ultra CX racing for you?
I love gravel roads, the sound, the feel.. and it's all out there. It's just ride-hard, last-man-standing racing. Usually. But in MI, I think the course is flat enough that it may be more like a paved road race, where it might come down to a "final move". Although all this I wouldn't know, because, as you may remember, Gerald Flug (bc it's funnier with an "F" ) shot my tires out last year and I separated my left acromioclavicular joint in the ensuing crash.
6. How does your bike set up differ from the usual for a gravel road or Ultra CX race, if at all?
For MI, I will DEFINITELY NOT be running the new 2x10 with a 38 big ring that is on my Specialized S-Works 29 StumpJumper. It was almost too small for Southern Cross in GA, and definitely is too small for MI speeds. Last year the 44 x 11 combo was pushing it, so I won't know until Saturday at the line.
With the 29er MTBs being as light as the cross bikes, there is really no need for drop bars if you are used to the mtb. Smaller tires, ADD AIR (very important, see Southern X flats).
7. What super-famous pro cyclist (besides yourself of course), from any discipline, would you like to see come do an Ultra CX race? (Even if it's only so you can see them suck big time.)
ThOM PARSONS, or maybe this big dog from Colorado I hear about, Dan Durland. or perhaps team dikhead (Dicky) from NC (because he is a native Buckeye who tries to hide that fact).
8. If Barry Roubaix were one, big UFC cage fight, who would win?

Selene "Jäger-bomb" Yeager
, aka "The Gun Show."
9. What is your plan of ATTACK?
"
Go that way, real fast. If something gets in my way, turn
."
10. (No Googling on this one) Why is the race called Barry Roubaix? (Even if you know the answer, feel free to make something up involving Barry Manilow, Barry White, Barry Goldwater or all three.)
I know that Roubaix has something to do with a road race, whether it is only the one in Paris with cobbles or all dirt-section road races, I do not know. And since I spent time in the Barry county EMS wagon last March, I have to assume that this is the other source.
11. Um, this might be an awkward question for you but...
If you had a gun, with two bullets, and you were in a room with Hitler, Bin Laden, and Garth Prosser, what would you do? (Hint: if you answered anything besides "Shoot Garth Prosser twice" you are WRONG.)

Since they are both worm food (well, one is technically shrimp food) I'd probably grab some souvenirs, you know, shit I could sell on ebay and make bank. Think of the prices for an authentic Hitler ear, or Bin Laden turban! grab that green, dolla' dolla' bill, y'all! Then I would cap any of the other muthers who said they would shoot me! damn, that's harsh.