This stuff just showed up at BigBikes World Headquarters in Boston-ish, Massachusetts. It's some fine, winter cycling wear from Starlight Custom Apparel down in Roanoke, Virginia. It looks so good, I actually feel a little too cool when I wear it. Of course I tend to wear mis-matched cycling kits from the 90s, so it doesn't take all that much for me to feel too cool.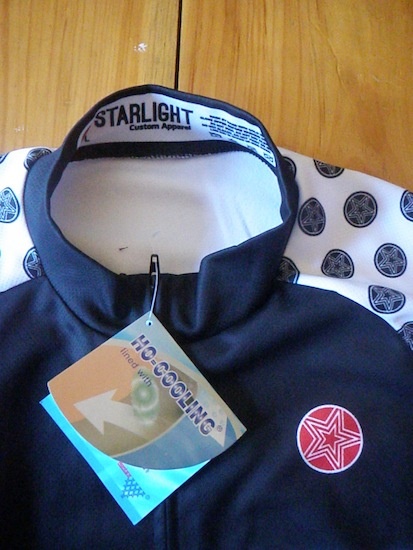 My daily, local loop takes me right by my grandmother's house at White Barn Farm. And while my fashion sense may be highly suspect, my grandmother is extremely discerning, "You look very stylish" she remarked when she saw me dressed head to toe in my Starlight get up. Which is a HUGE compliment coming from her...she normally tells me I look like an idiot.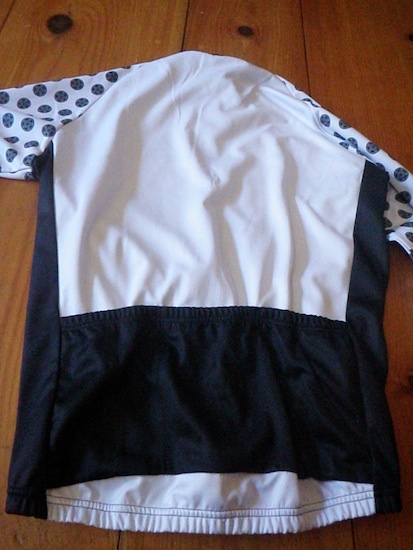 Winter jackets that don't have pockets on the outside make me so mad I want to kick a baby harp seal in the face. This jacket did not have that effect on me.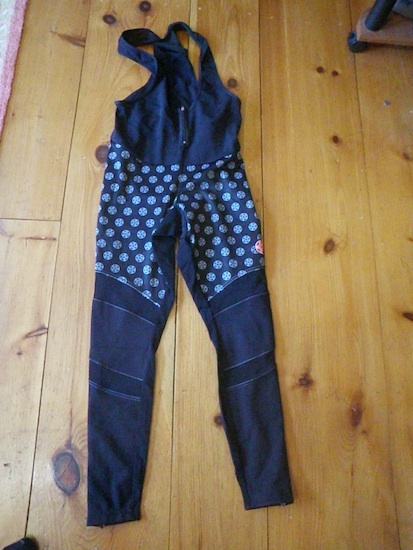 When I spoke to Stratton Delany from Starlight Custom Apparel about sending me some stuff, I think I had just eaten three John Goodman sized helpings of my brother-in-law's buffalo chicken mac & cheese. Needless to say, I was feeling larger than I do in normal life, so that may have influenced my decision to ask for a size large pair of
winter tights
. Hindsight being 20/20 and my behind-size being medium, I should've asked for a pair of medium tights. For point of reference: right now I'm 5' 10"-ish and about 170-ish pounds. (I should be 5' 11" but I slouch and I should be 165 pounds but I...eat buffalo chicken mac & cheese.)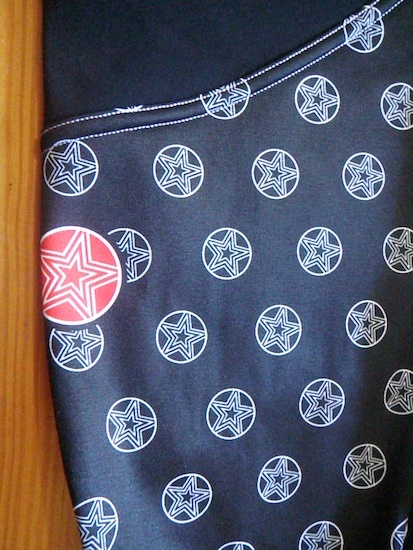 Detail on the tights
It wasn't just my grandmother who thought I looked wicked hot in my Starlight ensemble (does that sound weird to say?), a man on the trail — I was on a mountain bike ride, a muddy one...in my new half-white kit — asked me what kit I was wearing. I don't normally get that...probably because I'm wearing mis-matched kits from the 90s.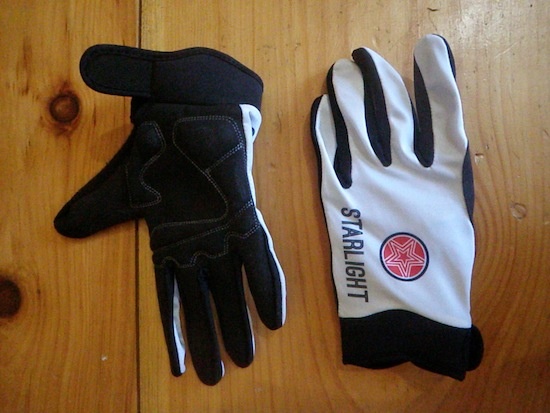 These gloves fit nicely, although I may have to wait 'til it warms up here in New England to 'sport' them. It's freakin' March and finally things decide to get all wintery on us. Point of reference: These gloves are large and they fit my hands nicely. I'm not sure how hands are sized, but mine are roughly the size of an average 6' 4" tall man's (or a semi-small orangutan's). Proportionate to my body, they look like I'm holding two of those foam #1 fingers or that I have flippers on my hands. When I point at something folks tend to blurt out "E.T. phone home" involuntarily.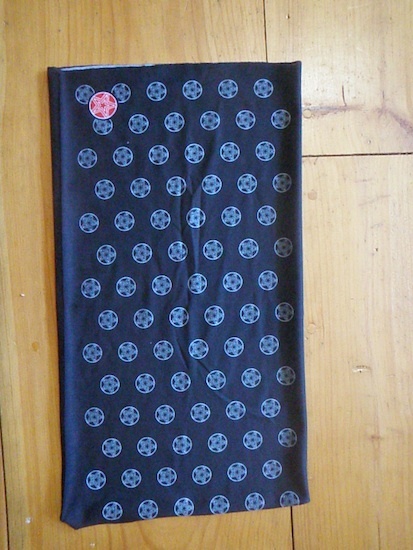 Then there's this thing. It's kind of a do-rag/bandana type piece. It has instructions for about a fifty-three different applications on the packaging. I intend to explore all of them in video form.
Stay tuned for part two of this review.
Check out
Starlight's website
for more info.