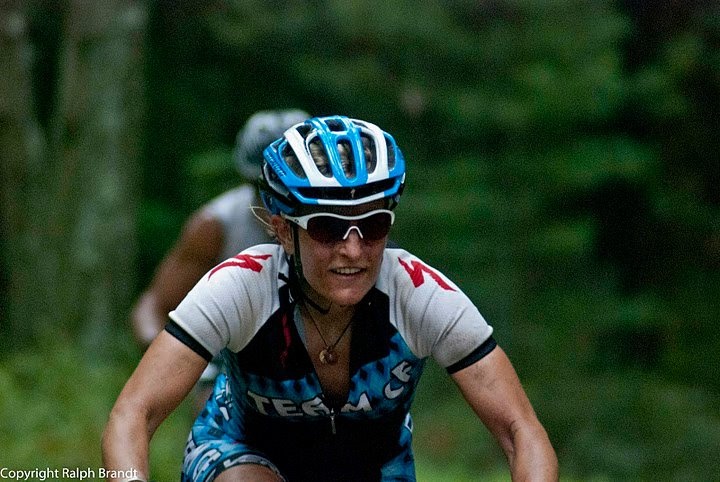 Cheryl Sornson is one of the top endurance mountain bike racers in the country. She often finds herself perched upon the highest step of an
NUE
(National Ultra Endurance) Series podium. We'll see how she stacks up against the competition at a slightly different type of endurance event on February 25th —
Southern Cross
in Dahlonega, GA.
11 Vaguely Southern Cross-Related Questions
BB: First off, what's your definition of "Ultra Cross?" What is this stuff all about? Like if you were trying to explain it to a martian or some toothless dude from New Hampshire. What would you tell it/him?
CS: Definition, don't have one. Not sure what all this stuff is about. I tried to ignore it, but..... I'll come up with something after the race.
BB: What's your set up, you running a cross bike, 29er, or...miscellaneous, and why?
CS: Not 100% on set up. More inclined to ride my 29'r, but borrowed a crux cross bike. Haven't ridden it yet, when is the race?
BB: Now is this a wicked SERIOUS race for you or are you using it as training? Are you going to be going for it out there or holding back?
CS: No, not wicked SERIOUS. Mostly training, but there is no doubt that I will NOT hold back .
BB: Could you ever see Ultra Cross races becoming THE Thing, the thing that folks structured their seasons around?
CS: I believe Ultra Cross will get its moment.
BB: Are you planning on hitting other events in the
American Ultra Cross Championship Series
?
CS: Again, I tried to ignore it and can't, so yes. Plan on Hilly Billy and possibly three peaks. It kills me to ride iron cross, but I may just have to suffer thru it. It is only one day of wishing I was riding my mtb on all the cool trails we pass by in route.
BB: What is your fueling strategy for a 50 mile, endurance cross race, and how does it differ from other events (if at all)? (And feel free to try to screw up the competition by saying: "Ex-Lax cupcakes for breakfast, Sriracha in my gel flasks, and Bud Light Lime in my water bottles.")
CS: Haven't discussed this with myself yet. But it will most likely involve top secret formulas that will never be divulged.
BB: What's the weirdest thought you've ever had while riding a bike?
CS: I am a super hero on my way to saving the world.
BB: What's the weirdest thought you've ever had off a bike?
CS: I wish I could go ride my bike so I can pretend to be a super hero again.
BB: Who is the last person (besides Garth Prosser, that's a given) who you'd want to have beat you at Southern Cross?
CS: Your trying to stir up smack talk aren't you!
BB: Did Lance dope? I'm just kidding! You don't have to answer that (unless you want to). But seriously, if Lance showed up to Southern Cross, would you beat him?
CS: He would win, I don't have a team of lawyers.
BB: Lastly, which would you rather do: lick Garth Prosser's hair or shove an angry ferret down your bike shorts?
CS: I'd lick Garth's hair over anything angry going on in my bike shorts!
BigBikesMedia p/b Cyclingdirt will be bringing you all the action from Southern Cross on February 25th.