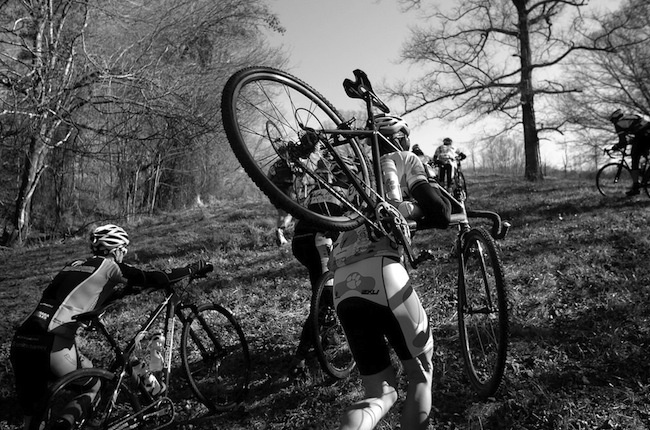 Photo cred: Drew Graham

Southern Cross - Ultra CX series opener AND closer, now with double points!
Southern Cross, it's not your daddy's cross race...well, it's more like your great, great grand daddy's cross race. Event promoter Eddie O'dea wants to bring cyclocross back to its 1900s roots where races were more like steeple chases than grass cirts around school yards (the thing about grass crits around school yards; my words, not his). "Back in the day" folks would race to the next town, over farm land, dirt roads, hills, creeks, rock walls, and fences. These days folks throw a hissy fit if there's a third barrier thrown into a cross course.
Southern Cross is part bike festival as well. Foundry Cycles will be there with a fleet of demo bikes. The Montaluce Winery is open for dining and tastings, and there will be a raging after-party where the
American UltraCross
Championship awards will take place.
At 50 miles in length, Southern Cross, like all Ultra Cross events, is an endurance cross race, and O'Dea and the guys from 55nine Performance know a thing or two about endurance racing — they're the force behind the
Fool's Gold
100 mile mountain bike race (which will also be covered here later this season).
And get this: Southern Cross is the
American Ultra Cx Series
opener AND closer, so it provides double points for racers on just one entry fee.
This is Southern Cross's fourth year and the event is growing rapidly. 300 racers are expected to show up this year, up from 200 just last year. These 'gravel grinder' style races are sort of becoming a thing.
SX starts with a traditional style cross course on the grounds of the Montaluce Winery & Estates just outside Dahlonega, GA, complete with run ups and barriers. Then it goes all ultra...racers will head out on a 50 mile loop comprised of gravel and forest service roads with plenty of steep climbs and fast descents. Racers will finish back where they started. There will be two aid stations along the way, stocked with ample food and drink.




The women's field is looking strong with defending champion Andre Wilson showing up as well as Selene Yeager (Team CF), Cheryl Sornson (Team CF), Shannon Greenhill (Peachtree Bikes), Lisa Randall (Sorella Cycling p/b Hincapie Sportswear), and Paula Burks.
The entire 2011 men's podium will be absent, creating a huge power vacuum. It's anyone's race this year but Brian Toone (5th overall in 2011), David Hall, and Ernesto Marenchin are all looking like strong contenders.
In the men's 40+ division we've got Gerry Pflug (Salsa Cycles/NoTubes/Top Gear) who was 4th overall in 2011, John Phelan (ACC), and Garth "Tinker" Prosser (Specialized/Ashford Surgical).
And in the singlespeed race we'll be watching dudes like John Karrasch (Bici Coop/T6/I9) (2nd in 2011), Roger Masse (Trek 29er Crew), and Wael Amara (Birmingham Bicycle Company).
Registration
for Southern Cross is open until Feb. 19. There will be no on-site registration offered, so
go do it NOW
.
Race information and registration can be found at:
http://55nine.com
Watch for pre-race interviews, coming soon here on the BigBikes.